SAFe Product Manager/ Product Owner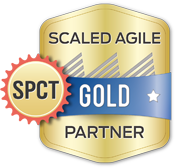 In this two-day course, you will learn how the roles of Product Manager, Product Owner, Solution Manager, and Epic Owner drive the delivery of value in the SAFe enterprise. You'll get an overview of the Scaled Agile Framework
®
(SAFe
®)
, the Lean-Agile mindset, and an understanding of how the Product Manager and Product Owner roles operate in the enterprise to drive the delivery of value. Finally, you will get an in-depth understanding of the specific activities, tools, and mechanics used to effectively deliver value to the enterprise. By the end of this course, you should be able to write Epics, Capabilities, Features, and User Stories within the context of SAFe, and have a solid foundation for managing backlogs and programs in a Lean-Agile enterprise.
You will learn:
Product Manager and Product Owner roles in the enterprise
Enterprise Backlog Management
Delivering Features in the Enterprise
Agile Software Requirements
SAFe events and process
Stakeholder management
Learning Objectives:
Identify the major components of the Scaled Agile Framework
Connect the Scaled Agile Framework to core Lean-Agile principles and values
Identify key roles and responsibilities within a SAFe implementation
Contribute to Portfolio content using epics and the Portfolio kanban
Apply Value Stream strategies to define and manage solution value
Engage in Product Manager strategies
Operate as a SAFe Product Owner
Develop a stakeholder engagement plan
Build and grow communities of practice
Length:
2 Days, meals included
Pre-requisites:
Leading SAFe® 4.0
Leading SAFe® Live Lessons 4.0
SAFe experience
Audience:
Product Managers, Product Line Managers, Product Owners, Business Owners, and Business Analysts
Solution Managers, Portfolio Managers, Program Managers, PMO personnel, and Process Leads
Enterprise, Solution, and System Architects
Agile Change Agents and Executives
Certification:
Attendees who pass the exam will receive:
A SAFe PM/PO certificate
One-year certified membership as a SAFe PM/PO
A SAFe PM/PO branding kit with the PMPO certification mark
Schedule:
This course is available as an on-site private training and currently has no in-class training schedule for individual sign-up. Click on "Get a Quote For a Private Session" above to receive a quote.