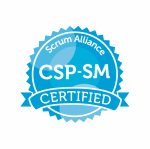 Certified Scrum Professional – Scrum Master Certification (CSP-SM)
Cprime learning currently offers courses ScrumAlliance has approved to provide the Certified Scrum Professional - Scrum Master certification.
Certifying Body
ScrumAlliance
Experience Level
Advanced
Role/Function
Agile Methodologies
Requirements
Hold an Advanced Certified ScrumMasterSM (A-CSMSM) certification with the Scrum Alliance.
Attend a certified CSP-SM educational offering to gain advanced Agile facilitation and coaching skills and learn progressive techniques in service to the Product Owner and the Development Team.
Successfully complete all educator-designed components of an approved educational offering. This may include pre- or post- course work as deemed necessary by your approved educator to complete the learning objectives.
You will be asked to accept the CSP-SM License Agreement and complete your Scrum Alliance membership profile.
Validate at least 24 months of work experience specific to the role of Scrum Master (from within the past five years).
Recertification Requirements
Renew your CSP®-SM, CSP®-PO and/or CSP® level credential every two years by earning 40 SEUs in that period. Renewing your professional level certification also renews your foundational and advanced certifications (CSM®, CSPO®, CSD®, A-CSMSM, and/or A-CSPOSM). We will send you a reminder email 90 days before your certification expires. There is also a $250 recertification fee.