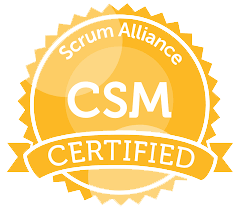 Certified ScrumMaster Certification (CSM)
Cprime learning currently offers courses ScrumAlliance has approved to provide the Certified ScrumMaster certification.
Certifying Body
ScrumAlliance
Experience Level
Mixed
Role/Function
Agile Methodologies
Requirements
Attend a face-to-face course taught by a Certified Scrum Trainer® (CST®), or receive private coaching from a Certified Agile Coach (CAC)
Have 14 hours of live online or 16 hours of in-person training with your CST, or 25 hours of face-to-face interaction with your CAC
After successfully completing the course, you will need to accept the License Agreement to take the 50 question CSM test that's available in 13 languages
To pass the test, you must score at least 74% on the 50 question exam.
Costs
Certification Cost is Included with Course Tuition
Recertification Requirements
20 Scrum Education Credits (SEUs) need to be earned every two years in order to renew the CSM certification. There is also a $100 Renewal Fee.
Cprime offers multiple courses that award SEUs. If you are not sure whether a course or instructor qualifies you for SEUs, or how many SEUs a class is worth, contact your training advisor.
Exam Details
Attendees must pass a 50 question assessment with a minimum of 74% upon course completion before a certification is issued.
There will be a 60-minute time limit for the exam.
Certifying Test is issued directly from Scrum Alliance via email and taken online.
1 retake is included if the student does not pass the first time. There is no cool off period so the retake can be completed immediately. If the student does not pass after the first retake there is a $25 fee for each additional retake.