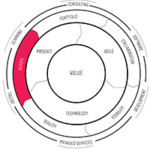 Highlighted Results for the DevOps Case study:
15% decrease in change failure rate
Improved productivity and development pipeline through the use of containerization tools like Docker and Kubernetes
Increased time spent on developing new features due to automating processes that were done manually prior to training
THE CHALLENGE
In 2017, a Fortune 200 Fast Food Company was developing a new Learning Journey centered on DevOps, the IT methodology that increases business value by improving collaboration and communication between development teams and operations teams. To ensure the success of the DevOps Learning Journey, the Fortune 200 Fast Food Company looked outside of their organization to find a training partner they could trust to deliver high-quality DevOps training courses.
The project manager of the DevOps Learning Journey, an internal DevOps Evangelist, found Cprime Learning's DevOps and IT services subdivision. She was impressed by the robust DevOps curriculum, which included training courses on topics including Containerization, Configuration Management and Continuous Integration (CI)/Continuous Delivery (CD) tools.
THE SOLUTION
Since having an Agile mindset and being services oriented are core principles at the Fortune 200 Fast Food Company, it was only natural they chose the DevOps Implementation Boot Camp as their flagship training course. Cprime Learning worked with the client's IT leadership to customize the course content to fit their specific needs by sending managers and team leaders to a pilot session of the DevOps Boot Camp so they could provide feedback on what topics needed to be added and taken out. Cprime Learning took the feedback from the managers and worked with one of Cprime Learning's top DevOps course developers and instructors, Alan Koch, to fully customize the DevOps Implementation Boot Camp to the client's specifications.
After a student attends the DevOps Implementation Boot Camp, an elective course is scheduled three to four weeks later. These elective courses are hand-picked by the DevOps Evangelist and her team. Much like the DevOps Implementation Boot Camp, each elective course is customized to fit the client's unique situation and project scenarios. The first two electives of the DevOps Learning Journey were the Introduction to Kubernetes and Continuously Delivery Workshop courses.
Download the DevOps case study today to learn more.
Some of the images used were designed by freepik.com