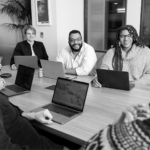 Industry: Mortgage
Company Size: About 7,500 employees; $3.5 trillion in assets
Location: Washington, D.C., United States
Products: Mortgage Financing, Mortgage Securities
Cprime Services: Enterprise Dojo
Highlights of Engagement: Setting up an Enterprise Dojo to bring their teams up to speed in preparation for a cloud migration.
This large lending organization has worked with Cprime coaches for over two years, running an immersive internal learning environment known as an Enterprise Dojo. In the following case study, we will dive into the impetus behind the engagement, the challenges that needed to be overcome, how Cprime coaches solved those challenges, and what the organization has achieved as a result.
Download this case study to learn more!
Some of the images used were designed by freepik.com