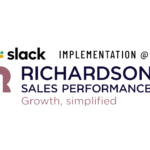 As two companies combine their workforces, Slack's services partner Cprime helps guide integrations and creates a successful change management plan.

"Thanks to Cprime, we were able to set up Slack in two days. The speed with which we can now collaborate and connect through Slack is much greater than in the past."
— Justin Walsh, CTO, @Richardson Sales Performance

The Problem:
Richardson, merged with Sales Performance International (SPI) in late 2019, becoming Richardson Sales Performance. In doing so, they faced the issue of creating a single, collaborative team from the combined 350-person company.
Some of the images used were designed by freepik.com