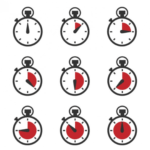 Improve Your Agile Team's Sprint Estimation and Organization.
The amount of work an Agile Team can perform in a Sprint must be known in order to plan the Sprint effectively. You can use this template to estimate the Team's capacity for work for a particular Sprint.
First enter the Sprint duration, and the hours the whole Team spends in standard meetings and activities, to compute the best-case "free time" in which Team Members can be working on Sprint Backlog Items. Then provide each Team Member's hours off per Sprint, and percentage availability to work on Sprint Backlog items. The template will then compute the Team's total capacity for work in Points, or Person-Days, and the effective number of full-time employees (Net Team Resources).
When you have estimated the Team's capacity, and estimated the size of requirements (Stories, Defects) in the Product Backlog, you can then determine which items will fit in this Sprint's Backlog.
Want to dive deeper? Learn about Agile/Scrum from our Scrum FAQ!
Download the Tool/Template
Some of the images used were designed by freepik.com