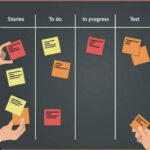 How to Incorporate Scrum & Kanban into your overall strategy
What have you heard about Agile? Trying to decide if Scrum or Kanban is a better approach for your particular team? Are you asking yourself if functions outside of Application Development, such as Marketing, Ux Design, Infrastructure, benefit from Agile techniques? Do you want to know some basic, but powerful, concepts to approaching your release cycle? Do you have complex dependencies or fit in a non-agile PMO environment but want to be agile?
If you answered yes to any of these questions, join us for a webinar walking through these key concepts:
Agile is not just a framework for software development, it is a way of thinking that can span the business

Agile gives a more clearly understood measure of progress than traditional Status Reports or Project Plans

Agile can be done within structured, well-defined PMO processes

Agile improves the ability to manage Customer and Stakeholder Expectations
We will also discuss some high-level similarities and differences between Scrum and Kanban along with recommendations to incorporate both into your overall strategy, even when your enterprise-at-large needs to continue some projects using a traditional plan-driven approach.
Watch the Webinar on Demand
Some of the images used were designed by freepik.com