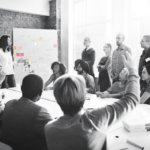 Theme: Expert Panelists Explore Positive Leadership
When discussing leadership qualities, people typically focus on vision, integrity and courage. There is no question that these traits are essential; however, positivity is the force multiplier. As organizations strive to innovate, modernize, and adapt to changing demands, positivity both empowers, creates resilience and removes friction.
Hear from our experts John Parisella (Diplomat, Former Chief of Staff & Special Advisor at NATIONAL Public Relations), and Donna Achimov (Chief Compliance Officer and Deputy Director, FINTRAC), as we explore this topic of positive actions and discuss its impact in shaping the future of tomorrow.
Marie-Christine Legault, Head of Canada at Cprime hosts each episode of the panel series.
Speakers:
John Parisella
Diplomat, Former Chief of Staff & Special Advisor
NATIONAL Public Relations
Donna Achimov
Chief Compliance Officer and Deputy Director
FINTRAC
Marie-Christine Legault
Head of Canada
Cprime
Watch the Webinar on Demand
Some of the images used were designed by freepik.com