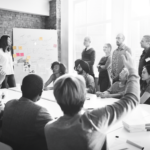 A Discussion with the NBA
Hear from women leaders in the workforce as they share obstacles overcome and lessons learned from climbing the career ladder to positions of power and influence. Listen to their stories on how they now help inspire others and continue barreling a wider path forward and upward for men and women and their careers.
Marie-Christine Legault, Head of Canada at Cprime, moderates this episode of the panel series. This episode of Elevate with Grit focuses on organizations that have shifted with the help of transformational leaders. Businesses evolve they way they think and work through embracing business agility as a means to delivering BIG business outcomes.
Hear from a panel of female leaders including Liza Ridgway (Head of Sales for North America at Cprime) and Jennifer O'Neill (VP, Head of Program Delivery and Operations at the NBA) as they discuss:
Stories on guiding leaders, teams, and organizations on the journey to becoming agile
Helping to shift the focus to innovation and
Maximizing the delivery of value in a collaborative, engaging and dynamic way.
Speakers:
Jennifer O'Neill
VP, Head of Program Delivery & Operations
NBA
Liza Ridgway
Head of Sales, North America
Cprime
Marie-Christine Legault
Head of Canada
Cprime
Watch the Webinar on Demand
Some of the images used were designed by freepik.com