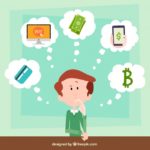 The Gaps in Your Agile Methodology No One Talks About – Part 2 Where Do Stories Come From?
So, your boss instructed you to "just write all the stories," but you have very little to start with beyond a vague idea or a bullet point on a slide. How do you get from this humble beginning to those brilliant, right-sized stories that can be handed off to your developers?
Illustrated via real-life examples, Anne Steiner demonstrates concrete steps for filling the gaps between idea and high quality stories. Not only will you have your stories but, more importantly, you'll have insightful discovery conversations that lead to deeper and more meaningful product understanding!
Watch the Webinar on Demand
Some of the images used were designed by freepik.com