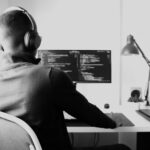 The notion that "software is eating the world" is arguably more relevant these days than when it was originally coined over a decade ago. Delivering innovative, disruptive, even game-changing solutions, across markets and industries, is tied directly to the organization's ability to deliver high-quality software-based solutions.
Cloud-based solutions offer a wealth of tools, frameworks, and practices that accelerate IT modernization, increase overall productivity and affordability, and address complexity and scale challenges.
Modern enterprises deliver software created by agile teams who develop and collaborate on the cloud. Software development on the cloud is not just one more way to achieve greater efficiency, it is the path to modernization,
Innovation and differentiation. Sound interesting? Deep dive into how your organization can benefit from cloud based software development, collaboration, and integration solutions.
You will learn about:
The imperative for cloud adoption and digital transformation
Modern software development practices
Innovative cloud-based solutions to reduce TCO, increase agility and scale, and accelerate time-to-market
Leveraging data visibility for optimal decision-making
Speakers:
Monte Montoya
VP, Partnerships & Ecosystems
Cprime
Guest Speaker: Devin Dickerson
Principal Analyst
Forrester
Sarah Fallah-Adl
Partner Solutions Architect
AWS
Watch the Webinar on Demand
Some of the images used were designed by freepik.com