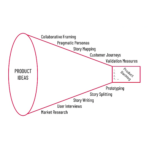 Do you find yourself inundated with product requests coming from all over the place? Are they coming in through email, Slack, text, chat, phone calls and who knows what else? Are the front lines capturing the needs of your customers but you are left wanting as to the importance or the why? Do you struggle to know the true value of the requests?
Managing the unlimited number of requests from internal and external customers results in either being too responsive and tactical trying to please everyone or the requests are disregarded as you focus on the "strategic".
This webinar will share some tips and tricks that will enable you to create and implement a solution that provides the conduit for product requests in one place and allows your "community" to help surface the one that matter the most, all while they have visibility into the status and progress. Sure, saying no is better than not saying anything at all, but it is even better to root out what the market needs and let them know it is coming.
Download the webinar on demand today!
Watch the Webinar on Demand
Some of the images used were designed by freepik.com