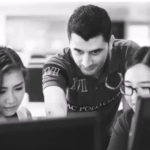 Being a product manager is a rewarding yet challenging gig. Balancing product strategies with financial realities, strategic thinking with tactical needs, and customer desires with technical constraints can leave us frazzled and frustrated.
As product managers, there is a lot that's not in our control. We do have, however, some important levers we can pull to help us influence, decide, and advocate on behalf of our products.
In this webinar, we will explore the fascinating world of today's product management, those aforementioned levers, and much more. Join us as Anne Steiner, Vice President of Product Agility, discusses three common roles within a product organization and the multiple ways they have to influence varying types of product decisions and make things happen.
Also check out the slides from this presentation
Watch the Webinar on Demand
Some of the images used were designed by freepik.com