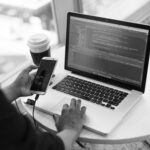 The distributed world of business created by the pandemic changed the way we use and capture data. Increasingly, enterprise visibility and roll up reporting is the core of our ability to pivot and keep up with an unrivaled pace of change. Join us for an informal discussion with Cprime enterprise solution experts, CJ Henry and Michael Sedovic, as they talk through their past experience at a Fortune 500 company in achieving data visibility for better strategic decisions with connected tooling architecture and roll up data.
In this webinar, we will shed light on these key questions from hard fought experience in the trenches:
What is the most important data to capture for leadership decision making?
How enterprise data can be captured and aggregated in real time?
How to multiply the value of integrated enterprise tooling ecosystems?
Speakers:

Michael Sedovic
Enterprise Solutions Architect, Cprime
CJ Henry
Enterprise Solutions Architect, Cprime
Watch the Webinar on Demand
Some of the images used were designed by freepik.com