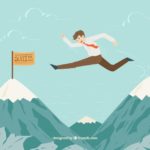 For the last 20+ years we've all been diligently working to agile our way to product success. Indeed, developing iteratively and applying agile methodologies has helped our industry make huge strides. At times, however, It has also led us to focus on the wrong things…
In this webinar we'll discuss how inherent gaps in common agile methodologies have led to poor product strategy, flawed definition, and ultimately, subpar execution.
We will highlight these gaps, hear real life stories of their impacts on organizations, and learn how to avoid falling into these traps when developing our products.
Watch the Webinar on Demand
Some of the images used were designed by freepik.com