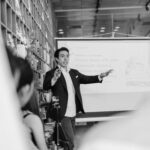 The demand for tech talent is at an all-time high and is only expected to increase (did you know that unemployment for software engineers has been hovering at 0% for years?!).
Cprime offers a unique program to help you leverage talent you already have, by uplevelling their skills towards careers as software engineers. The program provides new sought-after skills to employees that have worked for your organization for years and possess an in-depth understanding of your culture, business processes, products, and customers.
A skillset uplevelling strategy attracts talent to your organization, increases motivation and retention levels among your employees, and demonstrates that your organization values its people and is committed to their future career development.
In this webinar, Cprime's strategic technical coaches Nate Ashford and Ken Robinson discuss:
How to preserve domain expertise within your organization and reposition it to meet your current goals
How to reduce hiring costs
How to foster equity and diversity
Customer success stories
Speakers:
Nate Ashford
Strategic Technical Coach, Cprime
Ken Robinson
Technical Coach, Cprime
Watch the Webinar on Demand
Some of the images used were designed by freepik.com