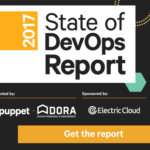 Today, DevOps is an understood set of practices and cultural values that has been proven to help organizations of all sizes improve their software release cycles, software quality, security, and ability to get rapid feedback on product development. Over the past six years and more than 27,000
DevOps survey responses, we've provided strong evidence that DevOps practices lead to higher IT performance. This higher performance delivers improved business outcomes,as measured by productivity, profitability, and market share.
This year, our research also found that the beneficial effects of DevOps go beyond financial results. All organizations, both for-profit and not-for-profit, are better able to achieve
their goals, no matter what their mission is.
Special thanks to our partners at Puppet Labs for sharing this resource.
Some of the images used were designed by freepik.com