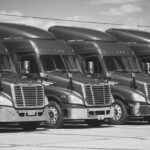 Why do we recommend fleet management software? Because we believe that fleet management automation will make your fleet operation run smoothly and help you save money. The question is which software is better for your company—an off-the-shelf solution or custom software? In this whitepaper, we'll give you an overview of the features you'll find in the average fleet management software, and what you can expect to spend to get a working solution integrated into the digital ecosystem of your company.
A wide variety of businesses across multiple industries can use fleet management software, including multi-national couriers, retailers, and distributors. State-of-the-art commercial vehicle tracking systems put you in full control of the costs and logistics involved while managing virtually any mobile workforce and assets. Fleet management software includes smartphone apps for drivers, a real-time web dashboard for dispatchers, and automated SMS notifications and driver tracking for customers.
Download this whitepaper today to learn more.
Some of the images used were designed by freepik.com