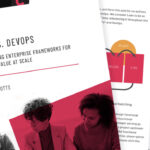 On the surface, comparing a productized program management framework like SAFe® and an open community-driven movement like DevOps may seem like a discussion of apples and oranges, but the two are not as mutually exclusive as many typically think.
Both carry significant implications for virtually every aspect of how we manage workflow in the enterprise and in how we organize and empower our teams to build products and systems. And most importantly, both frameworks present useful recommendations which can be customized to fit you and your organization.
This comprehensive whitepaper will help you understand the value of both approaches, and how they can be used either separately or in unison as a way to make your organization more efficient, more effective, and more successful.
Some of the images used were designed by freepik.com