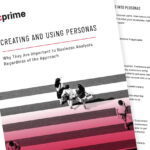 Why They Are Important to Business Analysts Regardless of the Approach
Personas are one method to better understand what needs to be delivered to whoever your users are. It's important to think of the various people that will be involved with your future application. The idea of personas dates back to the 1993-1994 era.
Over time, the acceptance of them has grown and is certainly a more common practice with Agile. However, the idea was conceived before Agile was spawned, and personas are helpful no matter which method you use.
In this whitepaper, we will explore:
How to properly detail and create personas
Serving the Persona as described vs. using the Persona as a starting point
Understanding what and how to create Personas' goals
Tips and best practices
Templates and Examples
And more!
Some of the images used were designed by freepik.com