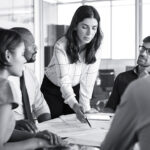 As the speed of business increases exponentially, many organizations find themselves in an awkward position: knowing they need to fundamentally change how they do business, but unsure of how to approach such a monumental undertaking. The pandemic and all its effects have greatly accelerated what was already a dizzying situation.
Without a doubt, organizational transformation is nothing to be taken lightly. Handled poorly, it can upset years of hard-won success. Even if handled well, there are bound to be growing pains. But, approaching change with the correct principles in mind and focusing on comprehensive change management can mitigate risks and make the entire process far smoother.
In this white paper, we will be outlining portions of a tried and true framework for organizational change. We will discuss how the steps outlined in this framework can be applied using Lean-Agile methods, and examples of how organizations we've worked with have done just that.
Some of the images used were designed by freepik.com