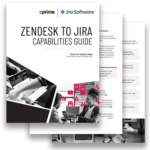 Considering a switch from Zendesk to Jira Service Desk? Learn how our team of experts can assist you in this process. We can help you with all types of Atlassian-related migrations, including migrations between Atlassian Cloud and Self-Hosted environments, consolidations of multiple Atlassian environments, and migrations from related 3rd party tools into the Atlassian ecosystem.
Read this guide to explore why you might want to consider a Jira Service Desk migration and how our Atlassian experts can help migrate your customer service operations smoothly.
The guide covers:
Jira Migration Solutions
Benefits of Migrating from Zendesk to Jira
Jira Services & Solutions
And more!
Download the guide today.
Some of the images used were designed by freepik.com