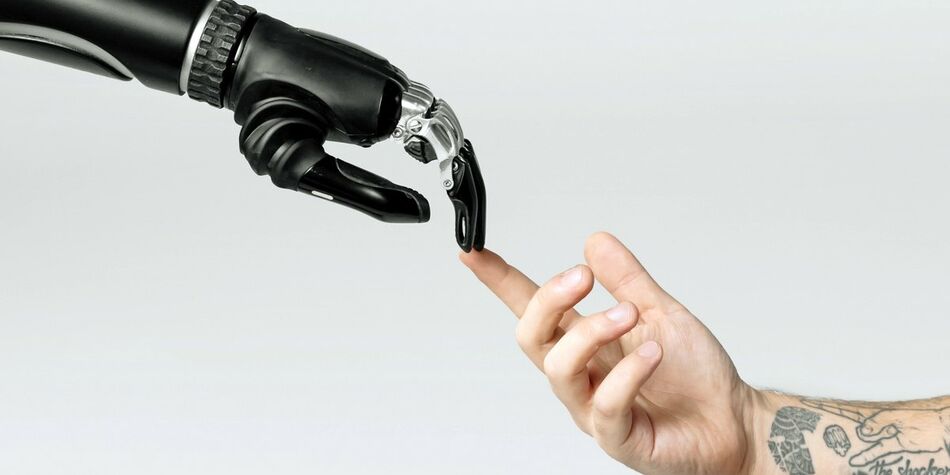 We cover the artificial intelligence questions in business processes and share how it would be profitable to implement AI now. Companies are interested in AI technologies and the benefits they can bring to their business. What are the main advantages of artificial intelligence? Let's find out.
Artificial intelligence (AI) is in the spotlight, and our interaction with technology both excites and scares us. Futurists believe that AI will change things for the better, while many workers are afraid of losing their jobs.
What is AI?
Artificial intelligence allows computers to learn from their own experiences, adapt to set parameters, and perform tasks previously done by people. In most AI implementations, deep learning and natural language processing are critical. Thanks to these technologies, computers can perform specific tasks by processing large amounts of data and identifying patterns.
How Does AI Help Improve Productivity and Business Processes?
Unless you are a time-traveler from the past era, you know that enterprises use automatization as much as possible. In factory settings, you can now automate operations with equipment for knowledge-intensive labor using AI. To implement AI solutions in your business, you need to hire an artificial intelligence engineer.
In the hiring process, artificial intelligence can help you attract and screen candidates for an open position. A program can check their ability, analyze matching skills, interview the candidate and generate a report based on the interview. AI also controls and renews temporary work agreements within the company. In this way, the computer can improve awareness of generally accepted mechanisms for recruitment and simplify this task for an employer.
AI Can Strengthen Existing Working Resources
There are many advantages of artificial intelligence. Scientists have been working on technologies that can imitate human thinking for some time now. AI has specific algorithms and the ability to solve complex issues.
AI and machine learning for business have emerged during the fourth industrial revolution that we are going through now. Companies need to adapt to these changes: their future success depends on their ability to use new data sources efficiently. Companies deal with complex and ever-evolving data sources like social media data, marketing and geo-demographic data, and speech recognition results.
The advantages of artificial intelligence for business are that it can help you to:
Reduce human error. Even the most professional and experienced employee can make a mistake, while artificial intelligence can help you avoid them. There is even a term for this: autonomous artificial intelligence is when AI can manage operations independently.
Reduce costs. The use of machine learning in a pricing system can increase revenue, and with an integrated approach, company revenues can grow substantially.
Avoid Fraud. Self-learning neural networks help analyze user behavior, identify suspicious transactions and create algorithms to prevent financial losses. The result: the system becomes less vulnerable, which is crucial to establish customer trust.
The Opportunity to Increase Demand
There are several advantages of artificial intelligence in personalization solutions. If you want to grow your business, constant improvement is necessary. The first place where you get to impress your customers is on your company website. Thanks to AI technologies, your customers can get a personalized and unique experience while using the website. A personalized customer experience in eCommerce increases sales because potential buyers can see more relevant items while shopping if the page is customized.
Shoppers see the products in online shops based on trends, product cards, recommended shopping lists, types of store feedback, and prices will even dynamically change according to the user preferences. Search engines, social media and smartphones know a lot about their users. This information can help businesses sell more products faster. You can offer these personalized solutions if you integrate artificial intelligence projects into your business processes.
AI has a significant impact on digital marketing trends; it gives brands the ability to personalize content for online users, consider their individual needs and then analyze user data for further decisions.
AI allows companies to show relevant ads based on the customer profile and personalized data filtering it by interests.
AI and the Future of Predictive Analytics
Unlike artificial intelligence, people cannot be completely impartial and objective. In addition, to make a reliable forecast, you need to process a significant amount of data, and AI can do it correctly and faster than humans can.
While analyzing characteristic phrases with natural language processing, you can quickly determine customer behavior thanks to advanced text analytics and predictive modeling. Machine learning helps to create constantly evolving models. E.g., the production of customized online offers for products and services.
AI Can Create 100% Winning Strategies
Working with AI takes place in several stages. The first step in the process is for a company to collect as much information about sales in recent years as possible. This array of data is called a data set. With the introduction of online cash registers, this information is saved automatically, and the system is synchronized with it in just a few clicks without manual input. Sometimes you can get this data with a simple systematization of the information already available, although you will have to spend time and effort to do this.
Developing a self-learning algorithm will take money and time, but the type of business you are in will influence the cost. For example, retailers can use ready-made solutions rather than create a recommendation algorithm from scratch. One of the functions of such systems is to increase revenue. On average, AI pays off after three months of use and then generates net profit through significant cost optimization and increased sales.
How Different Industries Use Artificial Intelligence
Banking. Risk management, forecasting and chatbots in mobile banking applications.
Information security. Anti-fraud technologies, analysis of old threats and prevention of new ones, as well as information for creating a common database.
Artificial intelligence in car manufacturing. Control of production processes, optimization, equipment diagnostics, information about breakdowns, preventive measures and automation.
Trade. Analysis of purchasing activity and the effectiveness of marketing strategies, procurement management, personalized loyalty programs and in-depth analytics.
Healthcare. Record keeping, diagnostics, telehealth.
Artificial Intelligence Development: Issues to Take Into Account
The future of software engineering is AI. To successfully implement the solutions, you will have to collaborate with a solid artificial intelligence software company or hire a talented AI developer. Due to the fast-growing corporate AI market, many developers will not meet the requirements necessary for success. This task needs to be taken into account when choosing someone to execute your idea.
Additionally, for training and deploying AI applications, AI engineers need access to a scalable and affordable computing infrastructure that can support the processing necessary for AI data. It is a business task. To build this infrastructure, you need to understand the advantages of artificial intelligence for business.
Most small companies cannot afford this. But the good news is that today there are accessible intellectual services that make AI applications accessible for enterprises. You don't need to build a unique infrastructure from scratch and find an expert like an AI engineer to hire. But you do need some experts in the AI area.
Instead of the Conclusion
In this article, we answer just a few main AI questions reviewing the main advantages of artificial intelligence. Before deciding if artificial intelligence technology is right for your business, you need to consider consumer needs and test the new technology to create a personalized experience for any customers. Consider the options to integrate AI into your company workflow and weigh the pros and cons of introducing new technologies.
Until recently, only large corporations could afford to invest in AI, but that is changing rapidly. The rapid rise in popularity of AI programming solutions allows startups of any size worldwide to leverage the technology to maximize their business value.
Our team believes businesses should implement AI in their operations. If you are interested in implementing a particular AI model in your business, let us help you integrate required solutions and improve automation services.