Today 20 people complete a journey that started in January. Last year they were in front-line positions dealing with customer needs either in person or over the phone. Today they are using that knowledge and experience to improve the software systems used to meet those customer needs.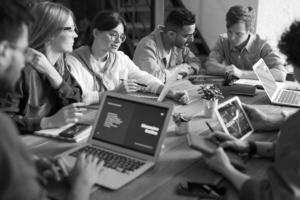 On January 4th, 2021, they entered a 6-month software engineering bootcamp that combined a rigorous full-stack JavaScript curriculum with a couple of our fantastic Cprime technical coaches. They learned not only how to code in JavaScript, but how to be professional engineers. They learned how to learn, and several of them are already using that to learn C#. They learned how to work in Agile teams, and they've done it enough to be able to advocate for it. They know how to write unit tests for their code, and better yet, they know why they want to. They know how to persevere through difficult challenges and know that they can overcome, because they've done it. And they will always have their memories of this experience to remind them of what they are capable of.
After four months of curriculum, and two months of apprenticeship on their new teams where they still had a coach to support them, today they step out on their own. They are no longer customer service reps and the like. They are no longer in jobs. They have careers with bright futures. They have generational change that will alter the trajectories of their children and grandchildren and nephews and nieces. They are Software Engineers.
In today's world finding software engineers is incredibly difficult, especially for organizations that are not in sexy startups offering stock options. For less than the cost of a recruiting fee or of sponsoring an H1-B visa, our client was able to convert valued employees in jobs that might otherwise have been downsized, into enthusiastic, loyal engineers. Their teams are grateful to have them, not only because they need the extra hands, but because of the energy and the agile-, growth-mindset they bring with them.
Their CEO described it as the easiest funding approval he's ever given. It was good for the employees. It was good for the customers. It was the right thing to do. Everyone who has been involved in the program has described it as a powerful, rewarding experience, one we would love to repeat.
This is not the first one of these I have had the privilege to be a part of, and each time, I find myself making the same vow, that I will find a way to do this again. The 20 wonderful people who step into their new careers today are not unique. They exist in every company and across broad swaths of untapped communities of talent. The diversity of their perspectives and experiences make their teams, and the products they build, better.
Congratulations to the graduates of Project Opportunity! May you go on to the amazing things I know you are capable of, and may there be many more cohorts like you!