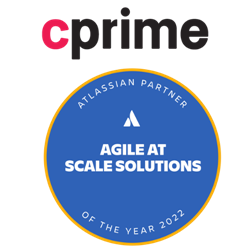 We're thrilled to share that Cprime has received Atlassian Partner of the Year 2022: Agile at Scale Solutions. Read the official press release here. This is the seventh time we've received this distinction, and it's just as exciting as it was the first time.
We've been an Atlassian Platinum Solution Partner for over eight years now, and we hold specializations in Cloud, ITSM, Jira Align, and Agile at Scale (the category of this year's award.)
There are so many talented people and organizations represented in the Atlassian Partners ecosystem, but just 26 were recognized as Partners of the Year in various categories. To qualify, we had to outperform dozens of highly-qualified competitors through exceptional efforts in developing new business, thought leadership, and products and services that complement Atlassian.
Our CEO, Zubin Irani, pointed out two important reasons we value this achievement: "It highlights our strong relationship with Atlassian, and speaks volumes about the results we achieve for our clients."
But how, exactly, do we achieve those results?
What does Cprime offer as an Atlassian Platinum Solutions Partner?
Our wide range of Atlassian-related products and services ensure that we can meet our customers where they are and help them achieve their business goals with help from the Atlassian tech stack.
These offerings fall into three broad categories:
Implementation and Migration
Optimization and Integration
Coaching and Training
Implementation and Migration
Whether a customer is already established in the Atlassian ecosystem, or they're just getting started, our implementation experts can help them choose the best solution set and set it up for success. This can involve:
Optimization and Integration
One of the most powerful qualities of the Atlassian tool stack is its flexibility. The core applications are useful out of the box, but they become a thousand times more powerful when customized, optimized, and integrated into the business's workflows. We can help with that too, including:
Coaching and Training
Of course, all that technological power means little if the users are unfamiliar or uncomfortable with the Atlassian applications. That's why our team of over 50 certified Atlassian experts provide:
Work with a Partner of the Year to implement and optimize your tools, and train you to get the most out of your Atlassian investment. Speak to an expert today.