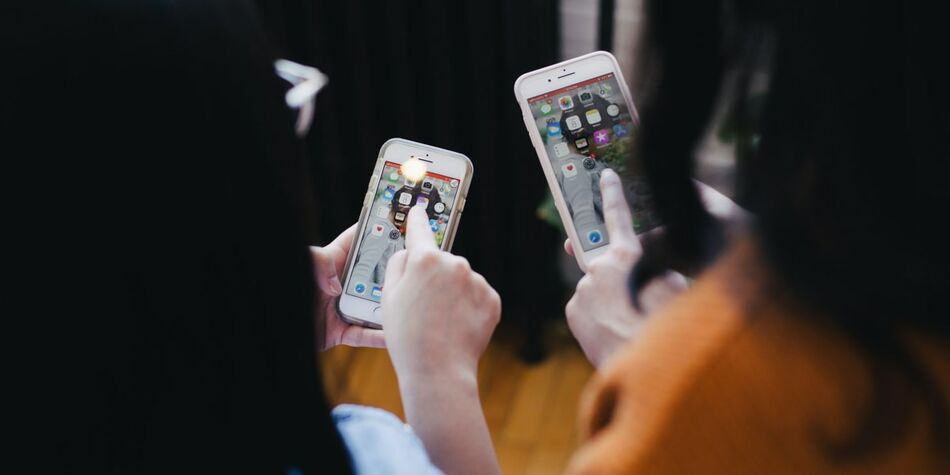 Creating a mobile e-Commerce app is a costly but high effective step if you do everything right. Have you already outlined a growth strategy for your e-commerce online store? If so, is there room for omnichannel marketing? In this article, we will try to convince you to consider building your own ecommerce mobile app with the help of a full list of its benefits.
Running an e-commerce business is quite challenging since it is very competitive. The threshold for entry is relatively low, plus there are a lot of technologies that allow you to create an e-commerce app for an affordable price.
However, providing users with a top-notch shopping experience using a well-developed and designed mobile application may become your competitive edge, especially with the rise of mobile commerce.
In this article, we will focus on the necessity of mobile shopping app development to complement website interaction and open up new opportunities for sales and brand awareness.
WHAT IS AN MOBILE E-COMMERCE APP?
An e-commerce mobile application is a solution created for mobile device users to interact with a retail brand. The wide adoption of mobile shopping apps has led to the emergence of the mobile commerce concept that lets consumers purchase goods using their mobile devices.
The statistics below show the rise of mobile commerce and its wide adoption by brands and consumers.
MARKET ADOPTION OF MOBILE COMMERCE AND ONLINE SHOPPING APPS
More than half of all internet traffic comes from mobile devices, and the share of e-commerce traffic is also quite high.
Retail mobile commerce sales are expected to reach $432.2 billion by 2022 compared to $268.2 billion in 2020.
The number of US mobile shoppers is expected to reach 187.5 million by 2024.
The use of a mobile eCommerce platform promises three times higher conversion rates compared to the use of a mobile-responsive website.
53% of smartphone users prefer to purchase from a branded mobile eCommerce app.
78% of users would rather get in touch with a retail brand using a mobile app rather than through a website. The reasons include convenience, speed, the opportunity to save their data, the ability to find the best deal available and get personalized offers.
How to validate a product idea and build an engaging mobile app
DOES A RESPONSIVE E-COMMERCE WEBSITE FIT THE NEEDS OF YOUR BUSINESS AND CUSTOMERS?
A responsive website can be a good choice to grow your e-commerce business. Well-developed websites are able to provide users with seamless onboarding, logical navigation, and safe payments.
However, the majority of consumers prefer a mobile experience vs a browser interaction. Since satisfying customer expectations is one of the goals of any business, the necessity to create a mobile e-Commerce app for your business is clear.
What's more, 42% of small businesses reported that they had a mobile app in 2018, and 30% planned to build eCommerce app in the near future.
Mobile ecommerce app development is an affordable service, and it makes a company very competitive when it comes to e-commerce. However, meeting your customer expectations and making your business more competitive are not the only benefits and reasons of eCommerce application development. It also opens up more opportunities for business growth and successful marketing strategies.
9 Reasons to Create a Custom Mobile Ecommerce App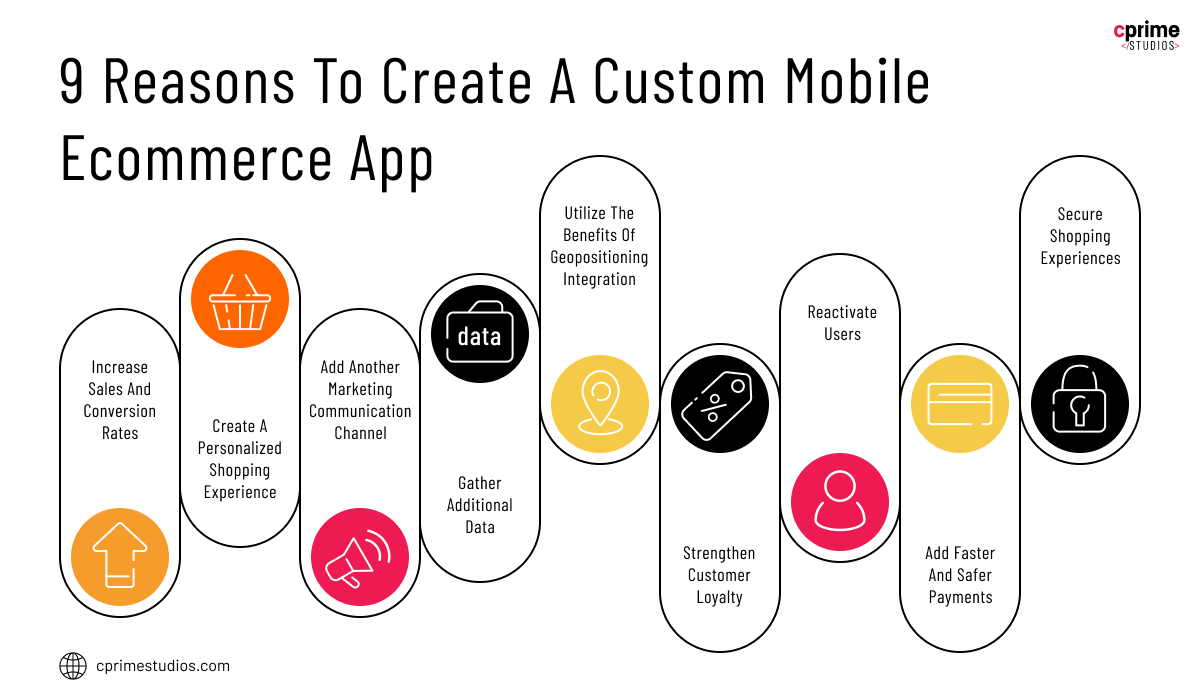 WHAT ARE THE REASONS TO CREATE A CUSTOM MOBILE APP FOR AN E-COMMERCE STORE?
Below are some of the reasons retail business owners rely on eCommerce mobile app development to strengthen their online presence.
Increase sales and conversion rates
According to statistics noted above, an m-commerce app (where a mobile device like a cell phone or tablet is used to buy and sell goods) may drive three times more customer conversions from leads to sales compared to an e-commerce website. The reason for the boost in conversions is that mobile app users have the opportunity to start shopping in one tap, and eCommerce mobile apps provide good marketing and personalization opportunities. Plus, nearly everyone has their cell phone readily available when they decide they need to buy something.
Create a personalized shopping experience
eCommerce websites are also quite good at personalizing the user experience with the help of a recommendation engine and behavior tracking tools. However, better mobile application accessibility can drive even more sales. It allows for sharing personalized offers instantly through notifications or promotions within the app, and customers don't have to go to the website to access an offer.
Add another direct marketing communication channel
Your e-commerce mobile application allows you to build omnichannel marketing communications in which it works in conjunction with the website as a data generation center. Using the information about the behavior of your customers in a mobile app and on the website, helps you craft a more personalized email, social media, and instant messenger communication.
Gather and analyze data
Data gathering and analysis is another opportunity that eCommerce solutions for mobile devices open up for your business. You will be able to use the insights for marketing and business strategy development by finding out which offers are the most relevant to your customers.
Utilize the benefits of geopositioning integration
Having a mobile e-Commerce app also allows you to use beacon technology, which is particularly effective for retail business owners who have a physical store in addition to their online presence. With the help of this technology, you can send a message to customers who are in close proximity to your store with an offer to visit your brick-and-mortar location and get a discount or some other offer. There is even a concept of proximity marketing, which is expected to reach a value of $52.46 billion by 2022.
Strengthen customer loyalty
Modern users love mobile applications for instant shopping, and they are great tools for promoting customer loyalty via data-driven, relevant, and personalized loyalty programs.
Reactivate users
Push notifications work quite well to get users back to the application. While 55-60% of users agree to receive them, they also have a 90% open rate which is 50% higher than the open rate of email newsletters. Thus, a mobile commerce application is much more effective for reactivating your users and stimulating purchases compared to an eCommerce website.
Add faster and safer payments
Finalizing the transaction within the app is also convenient and safe, according to many shoppers. What's more, your mobile application can be integrated with cutting-edge payment tools like mobile wallets and cryptocurrencies.
Secure shopping experiences
There are a lot of e-commerce security threats brought on by the rise of eCommerce because of the pandemic, and likewise, there is a similar rise in illegal attempts to intercept user payment data. There are a lot of mobile commerce security threats as well. However, mobile shopping is more secure than web transactions because customers download your mobile app from official app stores and data is stored in the app and not on the web.
HOW MUCH DOES IT COST TO BUILD A MOBILE E-COMMERCE APP?
The eCommerce app development cost is always project-specific. The average price to build mobile eCommerce app is $50,000, and it may be higher depending on the platform and development tools chosen.
Cprime is an eCommerce application development company with dozens of successful projects completed. We would be happy to estimate the custom e-Commerce application development cost taking into account the specifics of your business, the issues you need to solve, and your company's growth strategy. Get in touch with us for a free consultation so that we can discuss the specifics of a custom mobile e-Commerce app for your business!