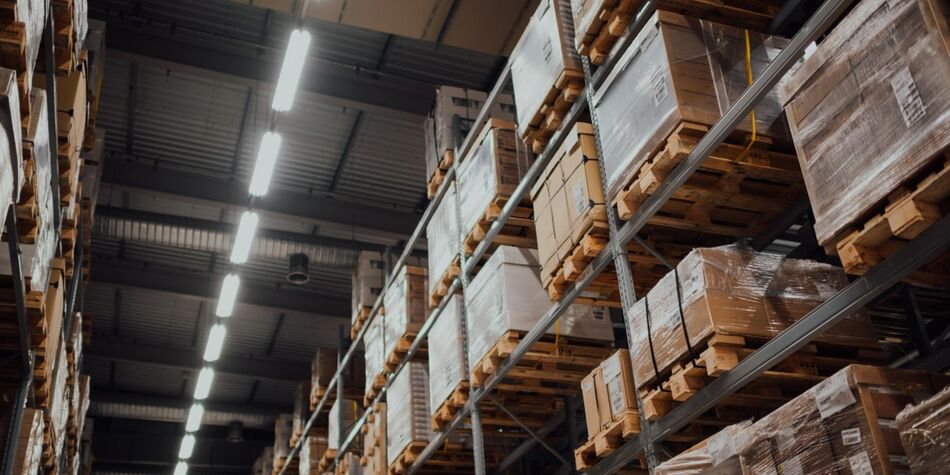 Any business process requires accuracy and the possibility to predict the level of workload. By the way, managing the warehouse is not an exclusion. In this article, we are going to reveal all benefits you can get from implementing custom warehouse inventory management software into your company's work processes, such as reducing costs and cycle times.
What does your warehouse look like? Are you an auto dealer and is your warehouse an outdoor auto parking slot? Are you a furniture manufacturer with a large finished furniture warehouse and materials warehouse as well? Does your warehouse serve small private business selling shoes or jewelry or maybe keeps thousands of SKUs of auto parts or medical supplies? Current IT technologies can help you to increase productivity and reduce costs in each of the cases. In this article, we are going to share some ideas and techniques aimed to optimize warehouse efficiency.
1. Select Warehouse Management Software
Setting up an optimal WMS – Warehouse Management Software – is most often reported by logistics professionals and industrialists to be the most efficient measure to reform the work of a warehouse. When your business overgrows tracking inventory in spreadsheets WMS comes to take over the bustle. It can help to reduce warehouse daily operations efforts, cut equipment downtime and optimize inventory. You can decide on purchasing a standalone system, an ERP system containing a WMS module, pick out a free or open-source app, integrate WMS service to your eCommerce CMS or even develop your own custom product depending on your business needs.
2. Track Your Staff Movements
To take control of your warehouse efficiency you should track, measure, and analyze. Use GPS, beacon, or other types of trackers to track your warehouse staff. This will allow not only to strengthen the discipline and lower labor cost but also to collect data for warehouse work analysis. With a tracking solution, you will be aware if forklifts are driving or idle and if they drive with allowed speed. Collecting and analyzing forklift route statistics can result in significant benefits revealing and eliminating potentially collision dangerous areas or detecting most frequent destinations, bringing them closer to packing or shipping areas and thereby cutting unnecessary runs of your order pickers. WMS software can also afford better real-time and statistical tracking data visibility allowing to make managerial decisions at glance.
3. Track Your Equipment State
Examine the possibility to employ not only a GPS tracking system allowing you to know where your forklift is but also some other sensors giving the idea of whether the forklift is loaded – how long it drives loaded or empty – or the crash occurred and some help is required.
4. Go Mobile
Complement web-based solutions with mobile ones. Modern communication technologies like RF equipment allow assigning transportation tasks dynamically. When new pickup order rises in the system, it will be able to find the nearest logistics staff or a forklift also considering a priority sequence and communicate the most relevant information on the order in real-time mode. Warehouse software supports dividing a transportation order into smaller units and assigning to different workers or vice versa combining the same-zone order together in an optimal way.
5. Dynamic Slotting
As we can observe dynamic slotting is one of the most desired features during warehouse management software development. Manufacturers and dealers often experience seasonal fluctuations in demand and the possibility to create and activate relevant seasonal slot map really make difference allowing to store more frequently accessed products in a more close physical location.
6. Navigation
Minimize your staff and forklifts mileage by calculating the more optimal route covering all pickup and drop off locations within a warehouse and navigating a driver through the route. Warehouse software often allows configuring warehouse storage bins map, managing forklifts fleet, determining the optimal forklift to perform warehouse order, and transferring this order to right driver, but are you sure that the loader driver will drive through optimal route? Warehouse best practices set this issue in control calculating the most efficient route and displaying it to forklift drivers in a way similar to GPS navigator for cars.
Different technical approaches are used to identify real vehicle position: beacons, optical solutions detecting special landmarks, or laser navigation. The navigation module can transfer navigation data right to the forklift controller automatically lifting the fork to the specified height after the forklift arrives at to target destination. The warehouse navigation system works in 2D or 3D, the last one enables a driver not only to locate the way to correct aisle and rack but also visualize the object storage bin in 3D. Implementing warehouse navigation mobile solution demonstrates up to 25% productivity rise.
7. Automation and Augmented Reality
Automating daily management functions is the best way to reduce costs with warehouse inventory management software. WMS usually supports daily planning, assigning staff to work orders, organizing order picking (also known as wave picking), directing, progress monitoring, and performance analysis. But the operation automating of which makes a real difference is picking. Barcode scanners, QR code scanners made storage bin or storage unit identification a piece of cake but have a serious drawback occupying worker's hands and hindering manual pickup.
Implementing a mobile application for a hands-free device like google glass makes picking faster and reduces the number of errors providing real-time inventory control. Voice recognition feature brings down data input time and by this means maximizes warehouse throughput, the overall savings with wearables and AR employment is about 25%. Since AR hardware devices – head-mounted displays and smart glasses – are still at the early stages of adoption and highly-priced, the enterprise AR solutions segment is estimated to grow and form future tendencies in enterprise logistics.
8. Geo-Fencing
Geo-fencing contributes to higher warehouse operation safety and is an effective anti-theft measure. WMS users can set geofencing areas and get alerts if equipment or assets marked with RFID tags leave or enter the geofencing area. The system can also automatically trigger required business processes on asset's crossing the configured geo-fencing area boundaries. The geo-fencing feature also allows setting different forklifts speed limits for different warehouse areas, for example, narrower aisles and alert forklift driver.
9. Engage Your Distribution and Manufacturing Staff
They can provide you with really brilliant ideas on most time-consuming operations or what can be automated, don't let your IT department totally rule the software development process. We hope our tips will help make your software more tailored and your staff more loyal and motivated.
Cprime has deep expertise in enterprise and warehouse management system development. We have already successfully completed the project for the Renault group and delivered a cogent solution for car wholesale distribution warehouse management. Being a component of existing WMS our solution allows us to:
warehouse slotting with slot ID assignment
setting up logical warehouse areas, including gateway points
configuring dynamic take away rules
locate optimal storage space for incoming cars
time-efficient assigning of storage space by QR code identification
managing and assigning car transportation orders
creating and scheduling service orders
lots pickup queue and gateway assignment optimization
inventory
warehouse planning depending on manufacture and shipment plan
reporting and analysis
The software component implemented by Cprime experts and deployed in Ukrainian and Russian Renault departments facilitated warehouse productivity increase and storage accuracy improvement, so our partner has been able to reduce both costs and cycle times.
Our team is for your service if you are seeking a provider for warehouse inventory management software development or upgrade, integration WMS solution to your legacy ERP software system, or aiming to complement your WMS with a mobile component, we can accomplish development disregarding the mobile device type you plan to use.