Microsoft 365 comes with many different options for managing projects and tasks associated with projects. But with so many different options, how do we know which one to choose. Each option has its own benefits and use case scenarios. In this blog post, I want to explain all of the tools and which tools to use for which scenario.
1. All the different Project Management Options
There are several different apps in Microsoft 365 for Project Management. From simple task management to advanced portfolio management. Here are the different options that I will break down.
Microsoft To Do
Outlook Tasks
Microsoft Planner
SharePoint
Microsoft Project Professional
Project Online
2. Graph explaining the requirements and the tools that best fit those:
When looking at the tools, the best approach comes from looking at Team size and dynamic, and level of complexity. For an individual that simply wants to manage personal tasks, they can choose Microsoft To Do or task management in Outlook. For a traditional team working on projects with complex schedules, they would likely choose Microsoft Project Professional or Planner.
On the other hand, for complex project management where there is a need to share, for example, an enterprise pool of resources, you would want to consider deploying Project Server/Project Online. Look at the following chart and table to help when making the decision on which tool to choose:
| Tool/Solution | Best Uses | Features |
| --- | --- | --- |
| Microsoft To Do | Individuals tracking personal or work tasks. | Smartphone apps, integration with Planner and Outlook. |
| Outlook Tasks | Individuals tracking personal or work tasks. | Integrated into Outlook. Enhanced filtering and conditional formatting. |
| Microsoft Planner | Good for individuals as well as Teams. Projects from small to medium where you need more advanced task management features and simple reporting. | Part of the Microsoft 365 suite of tools. Integrates with Teams, Groups, and To Do. Full of great features for task management, assignment, reporting, etc. |
| SharePoint | Teams with small to large and complex projects. Especially when customized collaboration tools are needed. | Team portals can be built out to suit the needs of the teams. Provides all the features of SharePoint for team collaboration. Integrates with Project Professional and Project Server/Online. |
| Microsoft Project Professional | Teams with small to large and complex projects. When Scheduling and Insight are required. | The de-facto project management tool for project professionals. You're probably aware of all the features it comes with. |
| Project Online/Project Server | Multiple complex projects in a formal PMO needing Portfolio Management. When Scheduling and Insight, Visibility and Control are required. | The most complex tool available. Integrates with SharePoint, Microsoft Project Professional. Built on SharePoint. Very complex to configure and requires significant Governance. Not for the faint of heart, but the best tool out there for large organizations needing to manage multiple projects with share enterprise resource pools and complex permissions management. |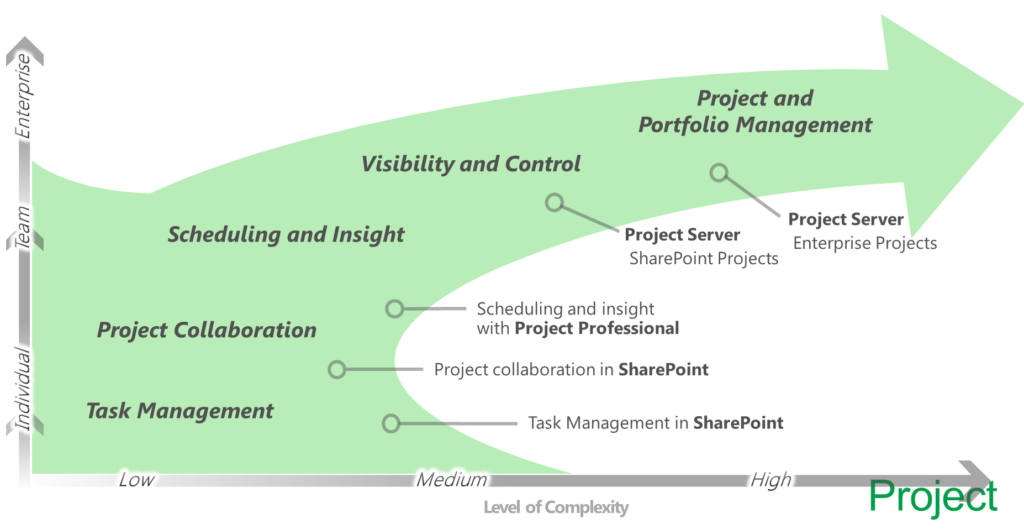 3. Microsoft To Do
A cool new tool for managing personal tasks is Microsoft To Do. I use it to capture things I need at the grocery and as I put them in the cart I click a radio button to remove it. It comes with a smart daily planner that gives personalized suggestions to update your daily to do list. It's cross platform so you can access your tasks no matter where you are across any device. In keeping with everything Microsoft, it's easy to share your tasks with other people whether they are friends, colleagues, or coworkers. Like any task management, you can break tasks down into simple steps, add due dates, and set reminders. Integrates with Outlook tasks to make it easier to manage all tasks in one place.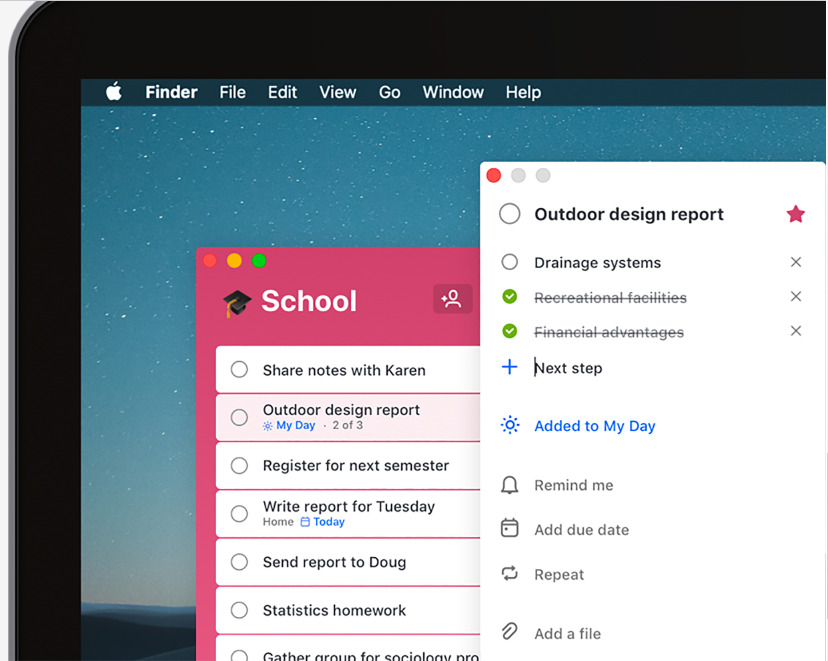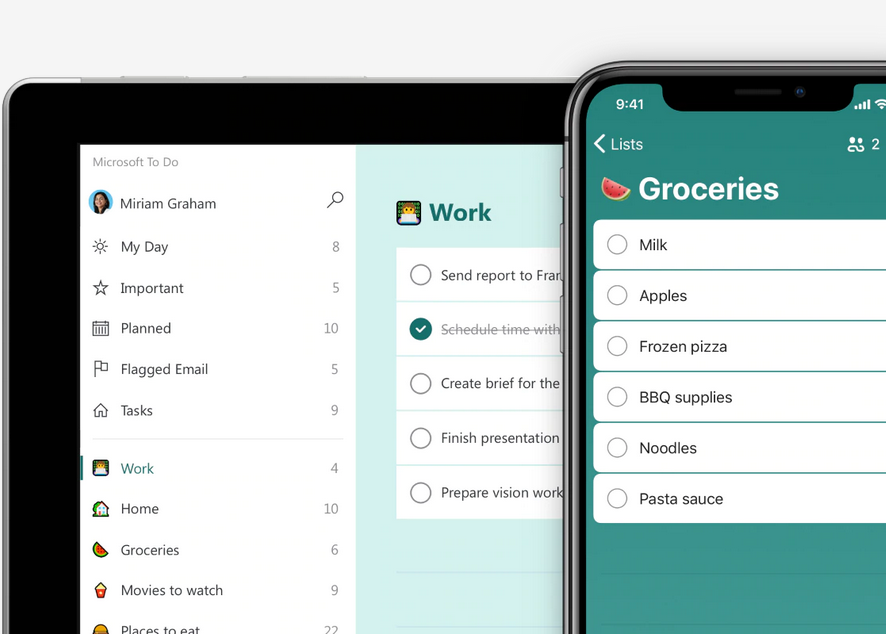 4. Outlook Tasks
Outlook tasks are the traditional task management that has been around for a very long time. The best feature of Outlook tasks is the ability to create Views with conditional formatting so we can see tasks in ways that make sense. You can format past due tasks as red. Format upcoming tasks as yellow, etc.
Outlook tasks can be connected to SharePoint so that you can see team tasks alongside personal tasks.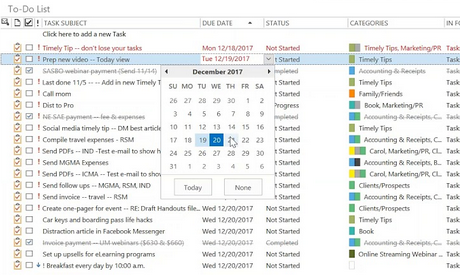 5. Microsoft Planner:
Planner is an application available in Microsoft 365 that integrates with most all other collaboration tools and is easy to use to quickly create and manage projects or initiatives. On the spectrum of complexity of project management tools, Planner lies somewhere between simple personal task management, like in Outlook, and complex portfolio management that is accomplished with Project Server/Online.
With Planner you and your team can create plans, assign tasks, chat about tasks, and see charts of your team's progress. Planner is a medium-weight project management tool and can be integrated with SharePoint to view the tasks as part of a bigger PMIS implementation.
Planner is a very flexible and attractive app. You simply create tasks, give them deadlines, create notes, and assign tasks to team members. Its keeps everything visual and open and even integrates with office and calendar so if you have an alert it pops up. It is great when added to a Microsoft Teams Channel so your team members can see work needed to be accomplished right along with the chats and files that are integrated in the Channel.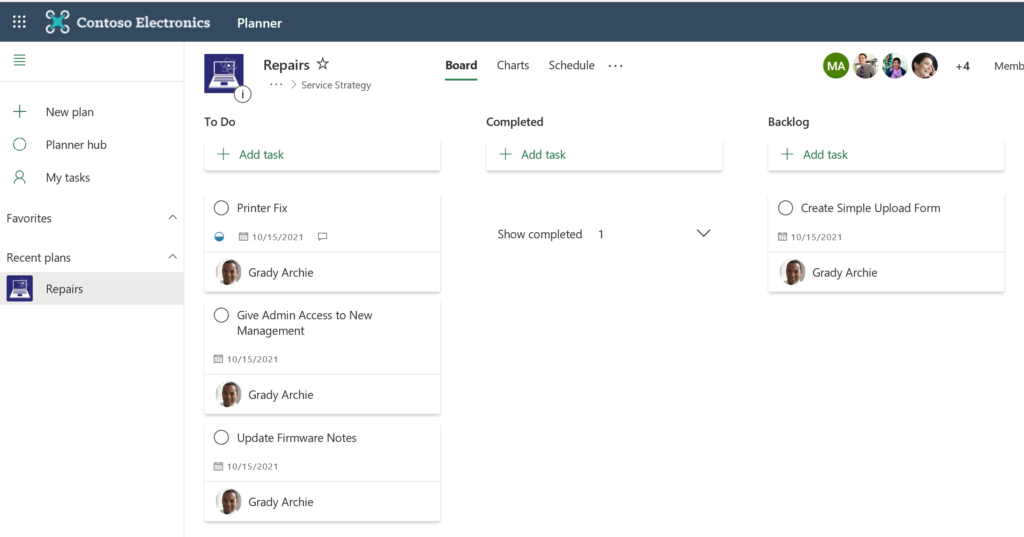 6. SharePoint:
SharePoint is where it all started. Long before Microsoft 365 (Formerly Office 365) SharePoint evolved as the platform for developing collaboration portals/websites. You can share and manage content, knowledge, and applications to empower teamwork, quickly find information, and seamlessly collaborate across the organization. SharePoint can be used to develop extremely customizable intranet sites for organizations. With SharePoint you can build cohesion and inform your employees throughout your intranet. Drive organizational efficiency by sharing common resources and applications on home sites and portals. Tell your story with beautiful communication sites. And stay in the know with personalized, targeted news on the web and the SharePoint mobile apps. The top solutions that can be created with SharePoint are:
Customized Intranets for sharing of team information like news, data, and resources.
Complex document management including version control, process automation, classification and categorization, automated policies for retention and deletion
Sharing of team information like calendars, tasks to work on, issues to resolve, other customizable data thru lists
Powerful Search that can be customized for your organization so that searches provide what you are looking for when you need it. With intelligent ways to discover information, expertise, and insights to inform decisions and guide action.
Accelerate productivity by transforming processes—from simple tasks like notifications and approvals to complex operational workflows. With SharePoint lists and libraries, Power Automate, and PowerApps, you can create rich digital experiences with forms, workflows, and custom apps for every device.
From the Project Management perspective, you can build project team sites complete with all the artifacts that are sued to track and manage projects:
Task List
Project Calendars
Issues and Risks lists
Team member info
Complex libraries for managing the lifecycle of your project documentation.
Integration with Power BI for complex project reports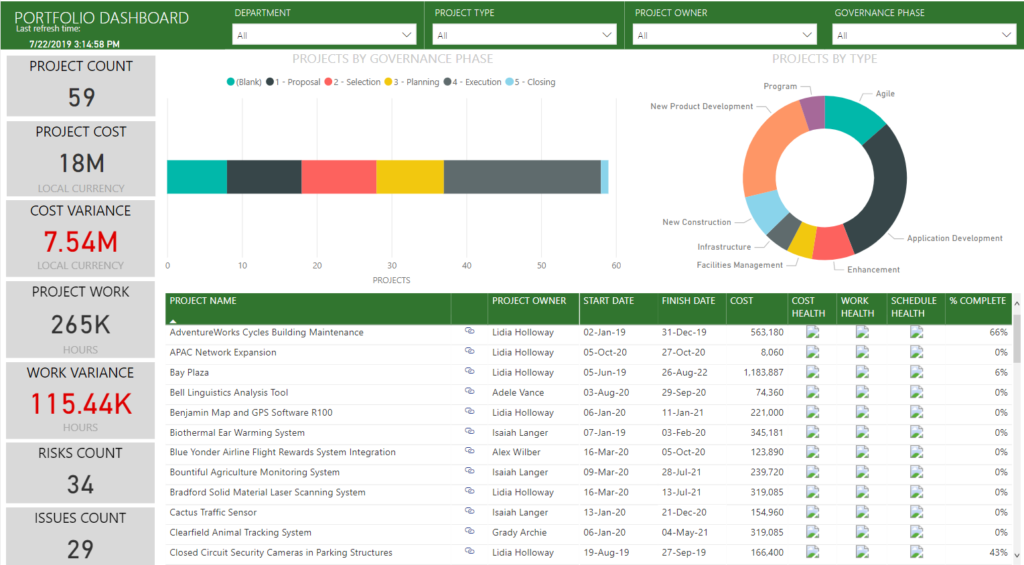 Complex Power BI Dashboards for real-time portfolio status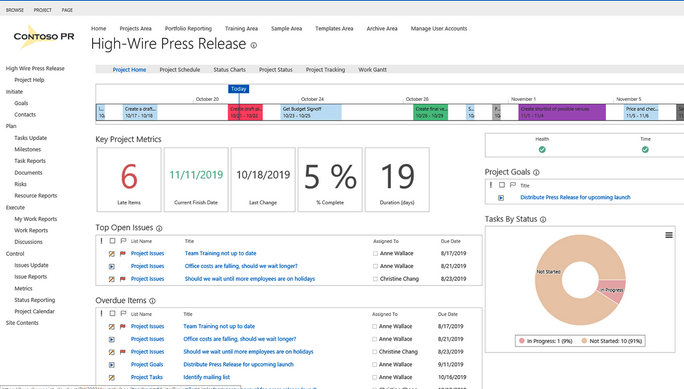 7. Microsoft Project Professional:
Microsoft Project Professional is the de-facto project management tool available. It has been around since the early 90's. The tool allows project managers full features and functionality for managing schedules, resources, dependencies, milestones, and critical path of projects. While you can manage multiple projects and their interdependencies, this tool is really for the single project manager to manage individual team projects.
The reporting tools in MPP are great for analyzing workloads and managing the project budgets and resources.
MPP integrates with SharePoint and Project Server/Online and remains the primary tool for managing the tasks (project schedule) in both systems.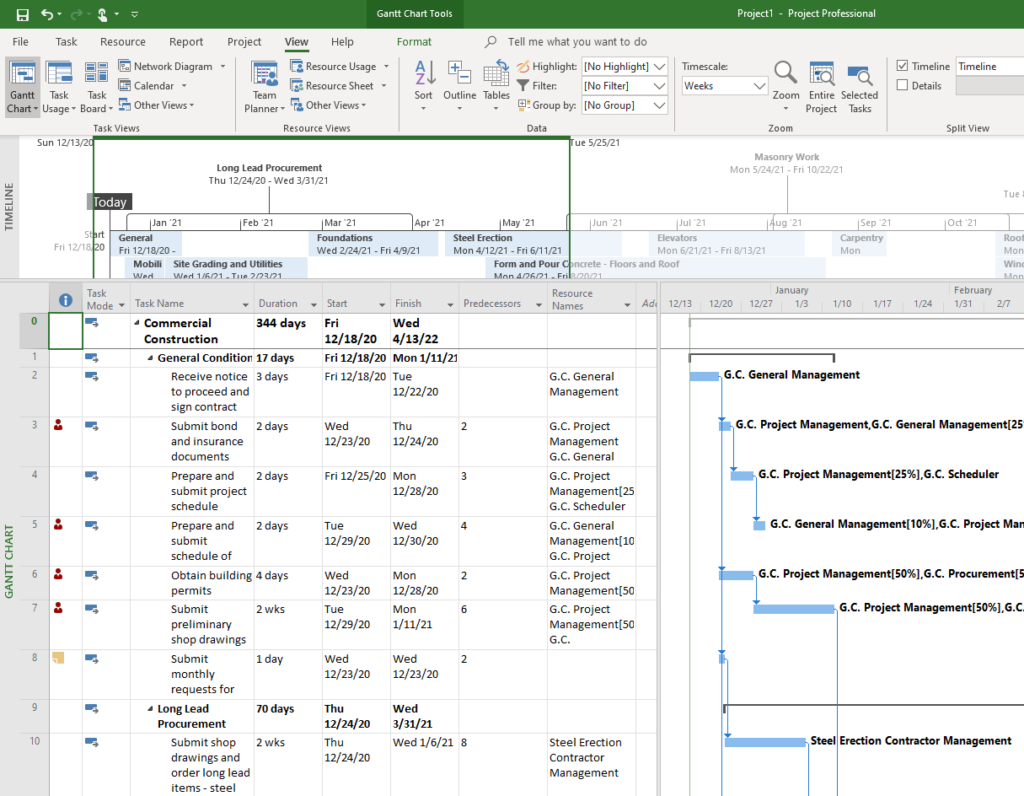 8. Project Server / Project Online
You'll hear people use these two terms interchangeably. Project Server is what we refer to as the "on premise" server version of the SharePoint-based Project/portfolio management system. Project Online is the same offering from Microsoft as part of 365.
To be clear, Project Online is NOT the web-based version of Microsoft Project Professional. While there are license options that include the downloadable version of Microsoft Project Professional, it is not a web-based version of the tool. Project Online is an entirely separate service that offers full portfolio and project management tools on the web. It includes Project Web App, and can, depending on your subscription, also include Project Online Desktop Client, which is a subscription version of Project Professional.
Microsoft Project Online is a powerful online solution for Project Portfolio Management (PPM) and everyday work. Delivered through Microsoft 365, Project Online enables organizations to get started, prioritize project portfolio investments and deliver the intended business value—from virtually anywhere on nearly any device.
Project Online has many features. Some of them include: Forecasting, Planning, and Managing Demand, Aligning and Strengthening Your Portfolio, Understanding and Controlling Your Critical Resources, Scheduling, reporting for understanding the status of the portfolio, Insights into how resources work and how projects are managed.
The Future of Project Online:
In September 2018, Microsoft announced improvements for the next generation of Project Online, calling it simply "Project." This reimagination of Project Online will focus on the addition of co-authored projects, better tracking of large-scale cross-functional projects, and improved scheduling features through Dynamic 365. The visual aspect of Project, which many users found lacking, will focus on more intuitive features that span the enterprise. The new Project will improve usability and integrate with other tools and systems across the Microsoft family, and will become Microsoft's primary project management solution.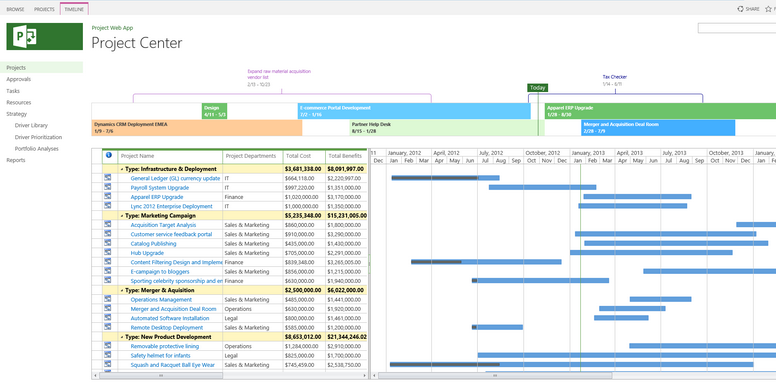 Managing Projects with Microsoft Office 365
View Course