cPrime at Atlassian Summit 2013
In the midst of organized chaos at the annual Atlassian Summit, there was a clear method to our madness here at cPrime – primarily visible in our swag wheel. Much like those first wheels used by ancient man – we aim to change the world into a faster moving, more adaptable place with our Agile training and coaching, and of course, Atlassian tools to back us up.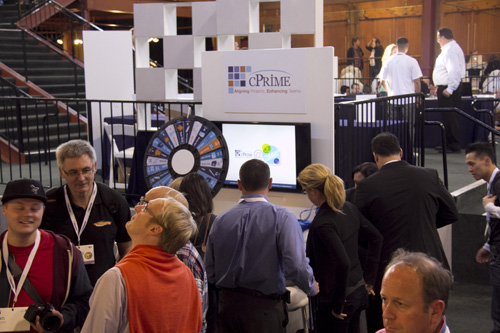 Over the course of the three-day conference, cPrime led three training sessions to help attendees make the most of their Atlassian tools. JIRA workflows, led by cPrime Agile Tool Lead, Rebecca Velasco-Juarez, helped JIRA users maximize their workflow potential and apply JIRA workflows to existing business processes. Agile in Practice, also led by Rebecca exposed the best ways to use Atlassian tools to help make the world a more Agile place. Advanced Bamboo, led by Joel Brass, cPrime CTO, was a crash course in best practices for building projects within Bamboo.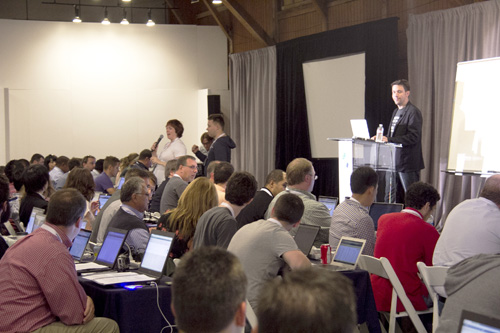 We hope the folks that attended our classes and booth had as much fun as we did, because the Summit13 was a blast. Those of us lucky enough to attend on behalf of cPrime, thoroughly enjoyed ourselves. We got ourselves 'plumped' up with some of the best street food SF has to offer, then danced it all of at the infamous Summit Bash Wednesday night. Not to be out-done, cPrimers dove into the dancing with zeal and revealed a whole new meaning for 'Agile."
As the event wound down to its close, cPrime was proud to receive the Rookie of the Year award at the experts dinner hosted by Atlassian. We like to think our rapid growth, high potential and excellent service was the inspiration for our sleek award, thought this shiny glass plaque is spilling no secrets!
If you spun our swag wheel and didn't land that dreamy t-shirt, or if you didn't get your chance, check out our swag store to peruse at your leisure.