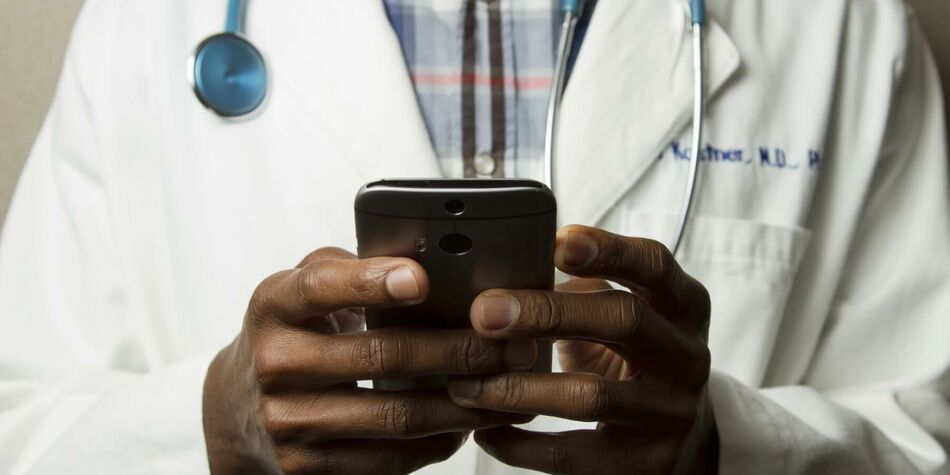 At Cprime we adhere to an innovative approach and believe that applications for doctors and medical students should be primarily useful and trustworthy. For this reason, we have selected the 10 best solutions in the field and elaborated on what to keep in mind when designing and building a truly great medical app.
In medicine, innovations are always perceived with caution, because we are dealing with people's lives and health. Therefore, doctors are often skeptical about everything that does not fit into the usual pattern of diagnostics and treatment, and solutions such as medical apps for doctors cannot always be trusted as well.
And in many cases, this opinion has a rightful background. The Institute of Medical Information (IMS) analyzed more than 40,000 applications available for download on iTunes, it turned out that more than half of them are just a toy.
But the other half is made with attention to doctors' needs and is designed as a helpful tool in their work. Let's discover what are the features that would make your medical app successful and see which apps have nailed it already.
TYPES OF HEALTHCARE APPS
The options are endless! We'll name a few:
Corporate applications for managing clinics, hospitals, and pharmacies
Applications containing medical information: reference books of drugs, clinical reference books with a detailed description of the main symptoms, protocols, articles, monographs
Applications for special categories of patients (pregnant women, diabetics, the elderly), to control nutrition, exercise, weight, blood pressure, sugar level
Nursing apps to help taking care of patients
Fitness applications
WHAT ARE THE POPULAR FEATURES OF A MEDICAL APP?
The ability to appoint a doctor in the right specialization and get the selected service at the specific time
Scheduling for doctors
Online consultation (in video and chat format)
Paying for medical services through the application
Personal profile for patients, where the history of examinations, diseases, tests, and health monitoring is stored
Databases – reference books, information about diseases, drugs, articles, etc.
Push messages about changes, news, promotions, events, new offers, etc.
WHAT ARE THE COMMON PITFALLS IN DOCTOR APP DEVELOPMENT?
For clinics, hospitals, and doctors appointment apps
For this type of application, it is necessary to develop a personal account for each doctor so that he or she can manage appointments, as well as implement the schedule, calendar, and database of patients and their case histories, plus provide an opportunity to reach out to a doctor online.
For educational apps for medical students
For this type of application, the most important task is to create a relevant information database that can be easily updated and accessed.
For practicing doctors apps
If there is a need to create an application with doctors on demand, it is necessary to introduce an intuitive interface for communicating with the doctor, as well as supplement it with the medication calculation function so that the doctor can prescribe the correct dosage of drugs online.
For health and fitness apps
For health and fitness applications, it is imperative to develop integration with wearable devices in order to track the user's actual vitals and make recommendations based on them.
For pharmacies, it is important to create an intuitive interface for the user, so that the search and order of the necessary medicine are carried out in no more than three clicks, plus a payment security system.
10 MUST-HAVE APPS FOR EVERYONE IN THE MEDICAL FIELD
Medscape
This is one of the most informative resources for both doctors and junior specialists. Medscape is something like a universal medical reference book that includes original articles on various topics, news from the world of medicine, annotations to drugs, tests for their compatibility, and more. The application is completely free, but the user needs to register an account (which is also free). Thanks to a convenient and simple interface, an excellent search option, and a database covering a huge number of monographs, clinical images, video tutorials for research and manipulation, more than seven thousand drug reviews and instructions, Medscape has been recognized by many practitioners around the world.
Figure 1
This is a useful medical app for doctors and nurses. It contains an archive of images that can be useful for disease diagnostics. This is especially true in the case of rare ailments. The app also allows the exchange of a variety of information between medical professionals for educational and training purposes.
UpToDate
This is another serious contender in the health apps market. No wonder thousands of doctors around the world have installed this application and are pleased with it. UpToDate is replete with medical knowledge that helps answer most questions. Downloading UpToDate is free, but in order to access the information stored in it, you or your organization need to have a subscription to the database.
Medical Terminologies
This is a reference guide for the study of medical terms. With it, you can find the interpretation of any unknown words and expressions from the field of medicine. The application has offline support, quick search, and an unlimited number of bookmarks. Medical Terminologies contains extensive volumes of information. The only minus is a slightly outdated design, but the functionality is just great. For medical students, this medical dictionary app is a must-have.
Sonosupport
This is a great comprehensive ultrasound medical application. This mobile application will provide all the important information necessary for conducting clinical ultrasound studies. Brief, step-by-step instructions of the application will help you get a complete picture of integration into your clinical practice.
Isabel
This is a diagnostic app. With this application (proven with research results, reviewed in dozens of specialized publications), the practitioner has the opportunity to double-check the diagnosis. The Isabel database contains more than six thousand reports on diseases and symptoms, also provides an opportunity to detail the results by age, patient gender, etc. To use the application, you need online access. Isabel is free, but you need to purchase a paid subscription to use all the features.
Complete Anatomy
This is considered the best anatomy app. Unlike analogs, the service provides the user with three-dimensional images of individual parts of the human body. It also has convenient tools for cutting, copying, and creating records. The user can also share his or her own observations with others through a special cloud platform.
Medee
This service involves a whole community of qualified doctors and patients. Each user-patient has the opportunity to get a paid or free online doctor consultation. Communication takes place in audio and video online chat, or through text messages. There is an opportunity to read popular questions and answers, find qualified assistance with writing research papers or dissertation services like TrustMyPaper or SupremeDissertations.
Airway Ex Virtual Surgery Simulator
This is a virtual reality application that helps you practice fiber optics skills. This application has been developed for anesthesiologists, otolaryngologist, and emergency doctors for endoscopic training. You will be able to perform virtual operations directly on your iPhone or iPad, which will maximize training and improve surgical results.
Resuscitation
This is a great educational application based on simulation. It gives you an idea of the patient who turned to you for help, and you play the role of an online doctor who should fully control the situation: study the patient's history, carry out an examination, and diagnose and prescribe therapy to treat the main problem of the patient.
Contact our team at learn@cprime.com for more information.