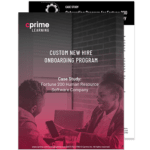 Highlighted Results of Onboarding Case Study:
16% increase in new hire retention
54% greater new hire productivity
17% increase in revenue per full-time employee
THE CHALLENGE
In this onboarding case study, read about a Fortune 200 human resource software company that wanted to partner with a training vendor to develop and deliver a custom new hire onboarding program.  The intent of the program was to attract top talent from college campuses, recruiting them for software engineering, IT operations and IT infrastructure roles and positions.
After several months of meetings with various training companies, they had not found a vendor that could provide an adequate solution.  Many vendors proposed solutions that were too long, too expensive or too cumbersome.  At this point, an employee in the procurement office remembered how easy it was work with Cprime Learning. The senior director for global talent acquisition then contacted Cprime Learning's enterprise programs team and together sketched out an IT graduate new hire onboarding program that could meet their needs and budget.   After presenting the CIO with a proposal showcasing the program elements, Cprime Learning gained approval and began developing two new hire onboarding programs for the client.
THE SOLUTION
The primary goal of the client's new hire onboarding program was to accelerate the development of recent college graduates with IT and computer science degrees to become effective and productive employees as quickly as possible by giving them specific technology and business skills training.
The teams' ultimate task was to develop and deploy a product. It was left up to the project teams to determine how to create the product. At the close of the program, teams completed a final exam, presented their finished product to the organization's IT manager, celebrated with a social hour. This entire process helped the IT managers choose which new hires would fit well in their teams from both a technical and cultural aspect.The secondary goal of the program was to assign the recent graduates into different teams within the company. To help facilitate this, students were grouped into project teams at the beginning of the program.
Download the onboarding case study today to learn more.
Some of the images used were designed by freepik.com