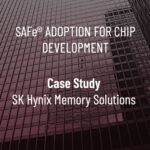 This case study documents how Cprime helps SK Hynix adopt the Scaled Agile Framework (SAFe®)
SK Hynix Memory Solutions (SKHMS) is a leading provider of custom system-on-chip (SOC) solutions for the solid state disk (SSD) storage market and delivers SSDs to the enterprise storage market. SKHMS storage solutions enable cloud storage, high speed online transactions and big data analytics. They are a subsidiary of one of only five companies globally developing and manufacturing high performance NAND solutions targeting enterprise storage, portable computing devices, PCs smartphones and tablets. The company was the fourth largest semiconductor company in the world in 2014.
SKHMS has been providing custom solutions for the Enterprise SSD space since 2009, with the highest-levels of system-on-chip performance coupled with the most robust firmware. Their solutions demonstrate sustained high input/output operations with ultra-low latencies, even under mixed workloads.
Some of the images used were designed by freepik.com