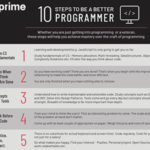 There is an obvious divide between a good developer and a bad developer.
Although it may seem like some software developers have a natural knack for programming, it's more likely that they have developed habits that make them great at their job. These habits are not just related to the technical aspects of programming. Great developers have a combination of technical and soft skills that make them become better over time.
Whether you are just getting started into programming or a seasoned veteran, this 10 step guide will help you develop practices and habits that will lead you to achieve mastery over the craft of programming.
Download the PDF version of the infographic here.
Some of the images used were designed by freepik.com