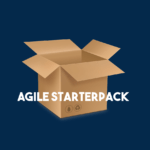 The Agile Starter Pack is a perfect reference guide for Agile newcomers. In one simple download, you get all of these key pieces:
Scrum FAQ – What is Agile What is Scrum
Agile Encyclopedia
Agile Scrum Glossary
Scrum team Cheat sheet
Scrum master Cheat sheet
Product Owner Cheat sheet
Want to dive deeper? Learn about Agile/Scrum from our Scrum FAQ!
Download the Tool/Template
Some of the images used were designed by freepik.com