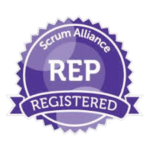 You've been asked to learn more about Scrum for your current job or to land a new job. Great! Now how do you choose which path is the right one for you?
Do you base your decision solely on what you have been doing in your career? Where you want to go next with your career? A bit of both?
The good news is that the Scrum Alliance offers entry-level choices to help you get started.
Watch this free webinar to learn more about:
Certified ScrumMaster® (CSM®) as an immersion into "Scrum 101" because it's hard to be the master of Scrum if you don't understand the framework roles, events, activities and values
Certified Scrum Product Owner® (CSPO®) as an immersion into tools, techniques and approaches for anyone in a Product Owner role, anyone assisting a Product Owner or someone who coaches a Product Owner
Certified Scrum Developer® (CSD®) as an immersion into technology practices such as test driven development, continuous integration and more
Presented by: Angela Johnson
Watch the Webinar on Demand