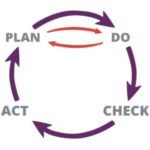 High performance organizations focus on building the capability to continuously innovate their business model, portfolio and products to meet the demands of their customers and market at speed. They understand that using the same strategy, practices and processes over and over across the entire portfolio leads to negative outcomes, slow decision-making and poor results.
In this webinar, business advisor and best selling author Barry O'Reilly and Tina Behers, Delivery Director of Business Agility at Cprime, will showcase how you can help rekindle your culture of experimentation and learning by aligning your innovation portfolio to your businesses strategic intent.
What are the key aspects to consider? Where should you start? What are the tools and techniques to use? How should you organize to make a meaningful business impact?
This webinar will highlight the key issues holding organizations back from unleashing innovation and demonstrate the critical concepts to consider when seeking to create high performance organizations with greater business agility at scale.
In this session, you will learn to:
Formulate actionable strategies to manage the uncertainty and opportunity of business model, portfolio and product innovation.
Align your business strategy and portfolio by visualizing work in progress and creating alignment at scale.
Create the team structures, organizational architecture and systems to support autonomy, transparency and data-informed decision-making.
Adapt your investment approach based on customer feedback and real business results.
Watch the Webinar on Demand
Some of the images used were designed by freepik.com