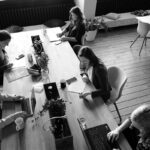 Business success is firmly rooted in speed to value, or the time it takes an idea to get into the customers hands. This means that eliminating inefficiencies through horizontal enterprise alignment should be on the top of every executive's mind.
In this webinar, we not only explore value streams and the impact they have on enterprise tooling strategy, but we also walk through a role-played example of how we are tangibly helping clients to assess and reorganize their value streams in just 2 hours.
Join Cprime strategic architects, CJ Henry and Michael Sedovic as they talk through why value streams are relevant and necessary for every organization, team, vertical, and group and showcase an innovative approach to mapping value in your organization.
Speakers:

Michael Sedovic
Enterprise Solutions Architect, Cprime
CJ Henry
Enterprise Solutions Architect, Cprime
Watch the Webinar on Demand
Some of the images used were designed by freepik.com