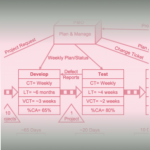 Your organization's success depends on your ability to deliver value to your customers. This is true whether your organization is for-profit, non-profit, educational, government, or any other type. With that in mind, a key question is this: How effectively do your organization's processes deliver value?
Value Stream Mapping is a technique that is designed to give you the answer to that question. And more importantly, it gives your team the insights they need to tune, change, and automate the processes they use so they can deliver value in the most effective way. Instead of optimizing merely for cost (with the risk of negative impacts on our customers), we can seek the most efficient ways to delight our customers.
In this webinar, after clarifying what Value Stream Mapping is and how it differs from process mapping or process analysis, we will show how the technique enables you to see your processes as more than just sequences of actions. We will see how to picture a process as a value-delivery mechanism, how to see waste as any negative impact on value delivery, and how to measure the efficiency of value delivery.
We will survey a variety of analyses that are done in Value Stream Mapping, the view of the process that they provide, and the insights they can provide to support true process improvement.
After this webinar, you will be able to:
Define Value Stream Mapping and contrast it to Process Mapping
Use your teams' Value Stream Maps to truly improve your processes
Use results to improve customer satisfaction with your products and services
Presenter: Alan Koch
Watch the Webinar on Demand
Some of the images used were designed by freepik.com