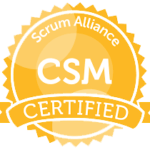 If you hold a Certified ScrumMaster® (CSM®) designation, you know how demanding the Scrum Master role can be. New Scrum Masters tend to get to work and focus on the Scrum framework, new vocabulary terms and helping everyone get started with Scrum. That's okay and a natural beginning.
Without continued education and practice on facilitation, Scrum Masters may find themselves making common mistakes.  The Scrum Alliance created the Advanced-CSM® program to provide Scrum Masters with that education and practice.
Check your performance as a Scrum Master. Are you falling into any of these pitfalls?
Do you show up to Scrum Events or Refinement conversations unprepared, with no plan on how to guide participants to gaining consensus or closure?
Do you skip covering ground rules or working agreements for Events and conversations with participants?
Do you assume inputs and outputs for the upcoming session are ready and you'll just be the scribe for any outcomes?
Do you assume everyone has the correct logistical information and knows how to access the Event or conversation, especially if it's virtual?
Do you drift into other participants' "lanes" inserting your opinion about the product or a solution on delivering it?
If you answered "yes" to any of the above, this one-hour session was created just for you. Join us for a free webinar and learn how to avoid and overcome these critical facilitation pitfalls.
Presenter: Angela Johnson
Watch the Webinar on Demand
Some of the images used were designed by freepik.com