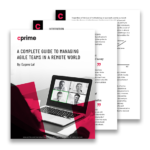 As the global economy continues to evolve into a complex and tightly integrated system, the popularity of a remote workforce continues to grow in support of this dynamic environment. The impetus behind this change lies in the increasing need for business organizations to reduce cost and improve the quality of their products and services in order to survive in a highly competitive market.
While organizations have utilized a remote workforce for decades, ensuring highly effective collaboration for remote Agile teams can create significant challenges that may erode the benefits of Agile practices.
Despite such challenges, with the aid of technology and strategic enhancements to common Agile practices, teams can still achieve a high level of performance and success. In this whitepaper we discuss some simple yet powerful techniques to help accelerate the development of remote Agile teams. Download today!
Some of the images used were designed by freepik.com