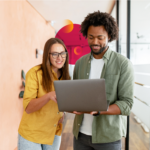 To stay competitive in today's fast-changing business landscape, large enterprises across all industries face mounting pressures to become more nimble, creative, and responsive. The insurance industry is no exception. The accelerating pace of innovation, rapidly evolving consumer behaviors, and intensifying competition mean companies can no longer rely on their scale and existing business models to sustain success.
The stakes could not be higher:
AI has the potential to generate over $1 trillion of additional value for insurance by 2030 according to McKinsey.
PwC estimates it could cut insurers' combined ratio by up to 13.5%.
According to Accenture, 78% of carriers are already piloting AI initiatives.
83% of insurers believe AI will enable them to expand services and value for customers, according to CapGemini.
This white paper examines the urgent need for change, the barriers faced by established enterprises, and the solutions enabled by artificial intelligence. It provides a blueprint for how AI can be leveraged by large companies to gain a competitive edge, successfully manage digital transformation, and position themselves for success in the future.
Download this white paper today!
Some of the images used were designed by freepik.com