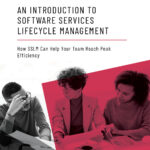 How SSLM Can Help Your Team Reach Peak Efficiency
More and more, software is at the root of many businesses ability to succeed. People are updating the firmware on their cars, they are connecting their smartphones to their refrigerators, they are viewing the feed from their video doorbells from their desktops. Software is a commodity and it is the driving force behind the ever-growing digital transformation — and how companies can develop, iterate and release their software can be the difference between sinking and swimming.
"Process and software must tightly integrate in order to support the connected nature of software delivery" – Zubin Irani, CEO for Cprime

With this increased complexity across a variety of verticals comes an increased complexity in the issues industries face in developing and releasing their products. Not only are there the issues of security, scalability and speed — issues that Agile and DevOps practices hope to address — but there are complexities raised by the supporting services themselves. As companies grow and scale, silos are introduced, created by teams, tools and processes. In a world where adapting at the speed of light is almost a prerequisite for participation, it can be difficult to strategically unify your software services in a way that doesn't actually hinder development.
The benefits of Agile, DevOps and Application Lifecycle Management (ALM) are many. From faster releases and improved efficiencies, to less downtime and increased stability, this brave new world of software development continues to offer incredible benefits. But harnessing the benefits offered by this approaches remains difficult, as siloed operations and disconnected software delivery workflows hinder teams from achieving peak output.
Some of the images used were designed by freepik.com