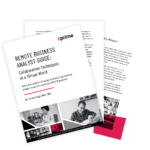 How digital adoption of analog techniques kept business analysts productive during and after the COVID-19 pandemic
Two of the business analyst's most ubiquitous responsibilities are building and maintaining relationships with colleagues and stakeholders and collaborating to surface and develop ideas from cross-functional teams to develop project or product requirements. Often, collaboration takes the form of whiteboard sessions or sticky note exercises with groups of workshop participants.
Pre-pandemic, these were mostly in-person interactions, even when it meant that companies had to send their BA's to client sites to facilitate the activities. Online collaboration was a substitute when business travel wasn't workable. It was unnecessary for those whose primary stakeholders were internal to the company. Though many developers already had remote work options prior to the pandemic, remote business analysis roles were often difficult to find outside of consulting.
It's clear that the tools changed more significantly than the techniques BA's used to ply their trade. Business analysts stuck to their go-to techniques but learned to apply them using online tools to adapt the experience. Furthermore, remote business analysts recommitted themselves to developing relationships, one virtual interaction at a time.
In this whitepaper, we'll explore the business analysts' role before COVID-19, how they have adapted to working remotely, and some predictions of their role in the future. Download this white paper today!
Some of the images used were designed by freepik.com