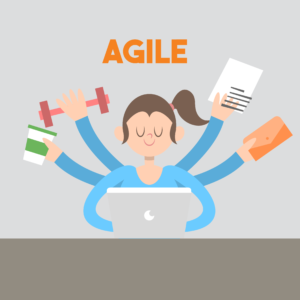 By: Liza Ridgway, Director of Agile Services
It's 2018 and women are still the "biggest source of untapped talent," said one of the speakers at the WITI Summit last summer. Research continues to show that we are not growing the Women in Technology numbers. One survey shows women hold only 24% of computer science jobs, down from 37% in 1995! It's surprising to me who graduated in 1981 with both a Math major and one of the first Computer Science majors. But then I think about my own career. I was offered every programming job that I interviewed for from the top employers across the country: CIA, Eastman Kodak, Lockheed Martin, SMS (later to be Siemens), and a few others. Math and Computers made perfect sense for me when I was studying. I was so challenged, led the discussions and got strong grades throughout high school and at a top private NE college, Bucknell.
But, I didn't take any of the pure technology roles (much to the frustration of my father who had paid 100% for that top education!). I remember telling him that "I just couldn't see myself sitting in front of a computer all day, talking with geeks at lunch, relating to the engineering jargon." However, didn't really know why I turned down these job offers. A recent 2016 MIT study helps to shed light on my experience – women that study engineering/technology don't often pursue it in the workforce as "The negative group dynamics women tend to experience during team-based work projects makes the profession less appealing." In addition, work environments tend to favor men in opportunities to work on more challenging problems, while women tend to be given more routine tasks or simpler managerial duties. This in turn, can often result in women experiencing strong dissatisfaction with their jobs and ultimately deciding to pursue other careers as a result of the workplace dynamics.
In my case, I didn't end up completely throwing in the technology towel. I went into Solution Selling and thirty-five years later I am back involved in technology and looking at things from a different lens. As I help teams do the extraordinary, I'm promoting Agile transformations/Scrum practices. And Agile is all about collaboration, communication, team dynamics, retrospection–traits that tend to be prominent in women.
And when teams involve both males and females, the real magic happens! This was noted by one of the Scrum forefathers, Jeff Sutherland, in 2013, who quoted an Op-Ed in Sunday's New York Times written by Adam Grant of the Wharton School's Adam Grant, that speaks to the critical place that communication holds as well in the workplace. In this article, Grant highlights several studies, which show that when women are around, men tend to be more generous and nurturing. He then goes on to speculate what this means for the workplace: " …It is even more so for Scrum teams. Which could lead one to conjecture that if the mere presence of a woman amplifies communication and enables cooperation, motivation and innovation it seems that having at least one female on every Scrum Team should be a requirement."
Women are great problem-solvers. Recent research shows that teams with more women were better at solving problems than their male-dominated counterparts. It's long been known that women exhibit an edge in the measures we usually associate with professional work. More broadly, in general, diversity is good for business: diversity of mindset, thought process and problem-solving approaches. And investing in women before they get to college, with programs like Girls Who Code, that includes heady stuff like robotics, web design, mobile development and great mentorship, is also a sound investment for the future of women in technology. Google (technology, anyone?) invests some 50 million in such programs Linux Foundation, RedBank and others are also heavily involved in promoting and partnering with such programs. And to top it off, recent studies show that women are currently the lead adopters of technology!
So we know that women in technology is a good thing. But we still need more Women in Agile. The numbers are still male dominated. Come, women and men,  join us as we embrace and help promote Women in Agile as we grow chapters in NY, LA  and the Bay area.
Join our groups today!
March 21, 2018: Women in Agile Meetup – Los Angeles, CA