If you are reading this, you are most likely a Scrum Master who has been relatively successful within at least a few Scrum teams, and are faced with an exciting decision: Should I pursue (or prepare for) a role as a Release Train Engineer?
When faced with this question in the past, I usually ask two questions:
Have you worked on a multi-team project that is consists of more than three Scrum teams?
Have you operated as a Chief Scrum Master on a multi-team project?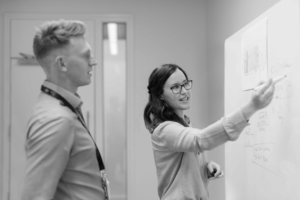 There are no right or wrong answers here. The questions are intended to help us determine your level of experience and potential actions that you may need to take in order to serve as a Release Train Engineer.
You may also be wondering "What is a Release Train Engineer?" and whether this role is the same as a Chief Scrum Master. The short answer is: A Release Train Engineer (or RTE) is a role defined within the Scaled Agile Framework (SAFe) who coordinates program-level activities across multiple Agile teams. At this point, I will acknowledge that this is a gross oversimplification of this advanced and important role within the SAFe model. The important thing to know is that the RTE is very similar to the Chief Scrum Master from the perspective that this person will work across all Agile teams within an Agile Release Train (ART).
So, back to the first two questions…
If you have worked on a multi-team project, that's a great start. Furthermore, if you have served as the Chief Scrum Master, that's even better. This means that you have some valuable experience to draw upon as you prepare for the RTE role.
What do you need to do to prepare for the RTE role? Within the SAFe framework, the RTE role is a highly-demanding position that will challenge you to apply everything you know about Agile principles and elevate such understanding to a new level. Since this is a short article, I will cover some highlights of all the responsibilities of this role. For a comprehensive list, I recommend you explore the SAFe website for the RTE role.
Key Skill #1 – Understand PI Planning (or Program Increment Planning)
As a seasoned Scrum Master, I'm confident that you have mastered the art of Sprint Planning. However, within a multi-team environment, the added complexity will require you to learn all the ins and outs of the SAFe framework for you to be successful. At the center of this knowledge base is the PI Planning, which requires significant prework.
Key sKkill #2 – Focus on the Whole System/Product/Solution
Helping a single Agile/Scrum team deliver successful outcomes is the foundation for a successful ART. However, this is just the beginning. The RTE must understand how to looks the bigger picture and see the issues and risks across all teams that are operating together, as this is where the battle is won or lost. Success at the individual team level will not be sufficient in ensuring the entire product/solution is successful.
Key Skill #3 – Build a Culture of Continuous Learning
In SAFe, a single Agile Release Train may consist of up to 125 people, which means you have a lot of work to do to ensure this large group of people are encouraged to build and sustain a growth mindset. One of the key responsibilities of the RTE is to foster the communities of practice to encourage continued learning. This will likely be much more difficult and time-consuming than you realize if you have not had the opportunity to work within a multi-team project. Rallying people behind the idea of relentless improvement is no simple feat.
In closing, it is natural for successful Scrum Masters to seek new and exciting challenges that will help them grow professionally and take their careers to new heights. Transitioning from Scrum Master to Release Train Engineer is a logical progression that I have seen many times and highly encourage. The main key to success is to acquire a solid understanding of SAFe and team development; formal training will definitely provide a boost but ultimately, hands-on experience and self-reflection will likely be even more impactful.
For a complete list of SAFe training options, refer to SAFe courses.