Over the past few years, I have gained unique insights from the State of Agile Report regarding industry trends. The reason that I pay close attention to this is that change is happening so rapidly now that we must understand the bigger picture in order to stay competitive; from both individual and organizational perspectives, we cannot operate in a vacuum or we will lose sight of how the world is evolving around us. The 15th State of Agile Report has some very intriguing tidbits of information that I would like to share with you in case you haven't found the opportunity to review this report yourself. Hopefully you will find this to be interesting.
Agile adoption within software teams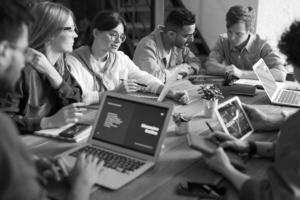 The Report indicates that adoption of Agile practices within software teams has jumped significantly from 37% to 86% since last year (2020). This seems like a mindboggling change to me. What may be causing this? My theory is that virtualization of teams around the world is encouraging teams to operate in an "Agile-like" fashion. While the Agile Manifesto encourages face-to-face collaboration amongst team members, remote/virtual work came about unexpectedly in 2020, forcing teams to become more "agile". This trend is reinforced by adoption of Agile by non-IT business teams which doubled since last year.
Optimization remains a key priority
Based on results of this Report, we see that 75% of respondents are focused on implementing DevOps transformation, while 66% have begun to implement or planning a Value Stream Mapping initiative. This data tells us that organizations are still investing heavily in optimization in search of improving efficiency amongst their people, processes and tools.
Challenges in adoption remains relatively unchanged
Despite the desire to be "more agile", organizations are still encountering barriers that are similar to issues identified in previous surveys. The top challenges are inconsistent processes and practices across teams, organizational culture at odds with agile values, and general organization resistance to change. I find it interesting (but not surprising) that change management remains the core issue at the heart of Agile adoption. I am not surprised by this because I have personally observed this situation in many organizations that attempt to adopt Agile; most companies do not invest adequate resources in training, and those who do allocate funding for training have a tendency to execute the wrong type of training (i.e. incorrect framework or method) or do not reinforce the learnings through coaching and mentoring.
Scrum remains "king"
Not surprising at all, Scrum remains the most popular Agile method that teams are adopting today (66%, up from 58% in 2020). Scrum as been around for approximately 2 decades and there is a plethora of training and resources available. What is interesting to me is that Scrumban appears to be increasing in popularity. Almost as interesting, the Report indicates that 87% of respondents practice Daily Standups, which means that even teams that are not practicing Scrum are attempting to improve communication and collaboration, which is a good sign.
SAFe (Scaled Agile Framework) remains the leader for scaling Agile
Also not surprising, SAFe remains the most widely-adopted framework for scaling Agile (37%, as compared to 35% from 2020) amongst the respondents of this survey. The gap between SAFe and the next method continues to grow; in 2020, the 2nd most popular framework (Scrum of Scrums) was at 16%, which has dropped down to 9%. The gap between SAFe and Scrum of Scrums has increased from 19% to 28%. To avoid overwhelming you with numbers, the message here is that SAFe is gaining momentum and popularity amongst the Agile community, which may be perceived as a positive or negative depending on who you are. My recommendation to Agilists is to learn SAFe as soon as you can to remain competitive and enhance your toolbox in event you might need to apply this tool at some point in the future, even if you don't think you have a need today.
In closing, the 15th State of Agile Report contains a wealth of information that you should definitely explore. Understanding where the industry is headed can help us look ahead and plan for the future!
Leading SAFe® with Certified SAFe® Agilist (SA)
Register Now