Too often when formulating strategy, enterprises look to their strategic inputs and ROI to guide the way.
It makes sense. After all, without sufficient ROI, a company won't last long. And, there's certainly benefit at the enterprise level in ensuring that all departments and initiatives are working toward creating that return.
However, when we're discussing organizations that rely on teams of developers who subscribe to agile workflows, a strict ROI focus can actually bottleneck the process and create challenges that otherwise would not arise. And, focusing solely on ROI can hinder creativity and progress in some areas while offering a false sense of security in others. For example, churning out a "new" version of a popular game title that is essentially identical to its previous iteration may check all the boxes for short-term ROI. But, if a game developer is doing so at the expense of developing new and interesting titles to excite new customers down the road, they're setting themselves up for obsolescence.
In contrast, lean portfolio management (LPM) — a concept included in the popular SAFe agile framework — takes as its starting point the notion that the portfolio must support the enterprise strategy for meaningful future transformation. Short term ROI is an important, but secondary consideration. Aligning strategy with execution through systems thinking, lean portfolio management allows for continual improvement that transforms the organization over the long term.
Let's explore the difference between lean portfolio management and a more traditional approach to managing development portfolios. Then, we'll look at how Jira Align — one of the newest additions to the Atlassian suite of solutions — can facilitate LPM at enterprise scale.
Lean Portfolio Management vs. Traditional
First of all, let's define lean portfolio management. LPM is a way of approaching portfolio management that uses lean and agile thinking to approach the highest-level of decision-making and financial accountability for an enterprise development organization. Done right, LPM drives strategy and investment funding, Agile program guidance, and Lean governance, all in line with enterprise strategy.
The LPM team provides objective guidance to members of the Portfolio team to assist with evaluation and alignment of the epic with the strategic themes and vision of the enterprise.
A core competency of lean enterprises, lean portfolio management uses agile methods at scale to drive and measure progress and adjusts with dynamic forecasting and budgeting. In this approach, organizations make steady progress toward organizational excellence while enjoying greater flexibility.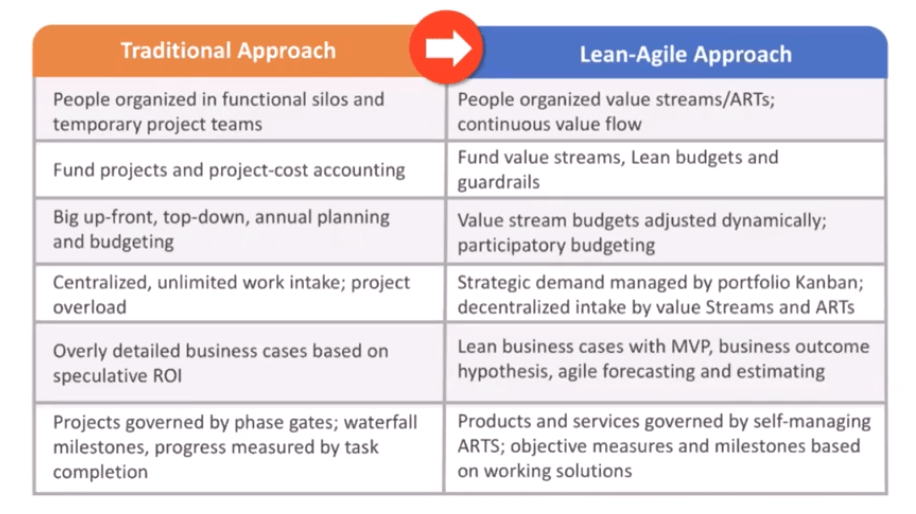 Advantages of a lean or agile approach
A lean or agile approach offers several advantages over a traditional approach, including:
Financial – Traditionally, budgets are set annually in a top-down approach; with scaled agile, budgets are adjusted dynamically on a routine basis using a participatory approach rather than a hierarchical approach
Focus – Traditional portfolio management works on a project unit, which often creates silos within the organization; lean portfolio management operates on value streams rather than siloed projects which allows for greater continuity among employees
Assessment – ROI is the traditional measure of assessment, but this can be speculative; Agile's lean business case allows for greater specificity in assessment through measured impact of a minimum viable product (MVP)
In total, these advantages translate into a more streamlined approach to portfolio management that, nonetheless, effectively guides, monitors, and continually improves activities within each portfolio. Of course, there are a lot of moving parts and a high margin for error. The key to success in LPM is expanding the system thinking at its core into the technology used to organize, monitor, and analyze historical, current, and future projects holistically.
Using Jira Align For Lean Portfolio Management
For large enterprise-scale environments with multiple portfolios running in tandem, the clear industry leader to fill that technological void is Jira Align from Atlassian.
</br/>
Click here if you're not sure whether Jira Align, Portfolio for Jira, or Jira +Apps is the best option for your organization.
Jira Align, formerly AgileCraft, was specifically developed to augment Jira's powerful combination of ticket-based workflows and collaboration tools, making all that data available to every level of the enterprise.
Users at every level are able to input their own goals, strategic visions, KPIs, and more, then pull down reports and views that slice and dice the data in hundreds of ways. Everything Jira gathers around work in progress and work in the backlog is seamlessly displayed in the proper context to monitor, analyze, and manage programs, portfolios, and even multiple portfolios.
Portfolio managers are tasked with communicating the value of funding strategic initiatives to investors, analysts, and employees. They are challenged with demonstrating, with tangible evidence, that the work program teams are delivering maps back to strategic investment themes. They often struggle with defining a plan for how more robust Agile / bi-modal process will be improved in time. It can also be a challenge to maintain Lean Agile principles (i.e., reducing WIP, managing flow), while attempting to scale within the organization.
Tools for portfolio managers
With Jira Align, Portfolio managers now have a real-time, top-to-bottom, connected roadmap that aggregates data in a meaningful and convincing way.
Jira Align provides portfolio managers with the real-time tools they need:
Real-Time Connected Roadmaps
Resource Allocation
Work in Progress
Investment vs Actuals
Strategic and Financial Alignment
SAFe Portfolio-Level Support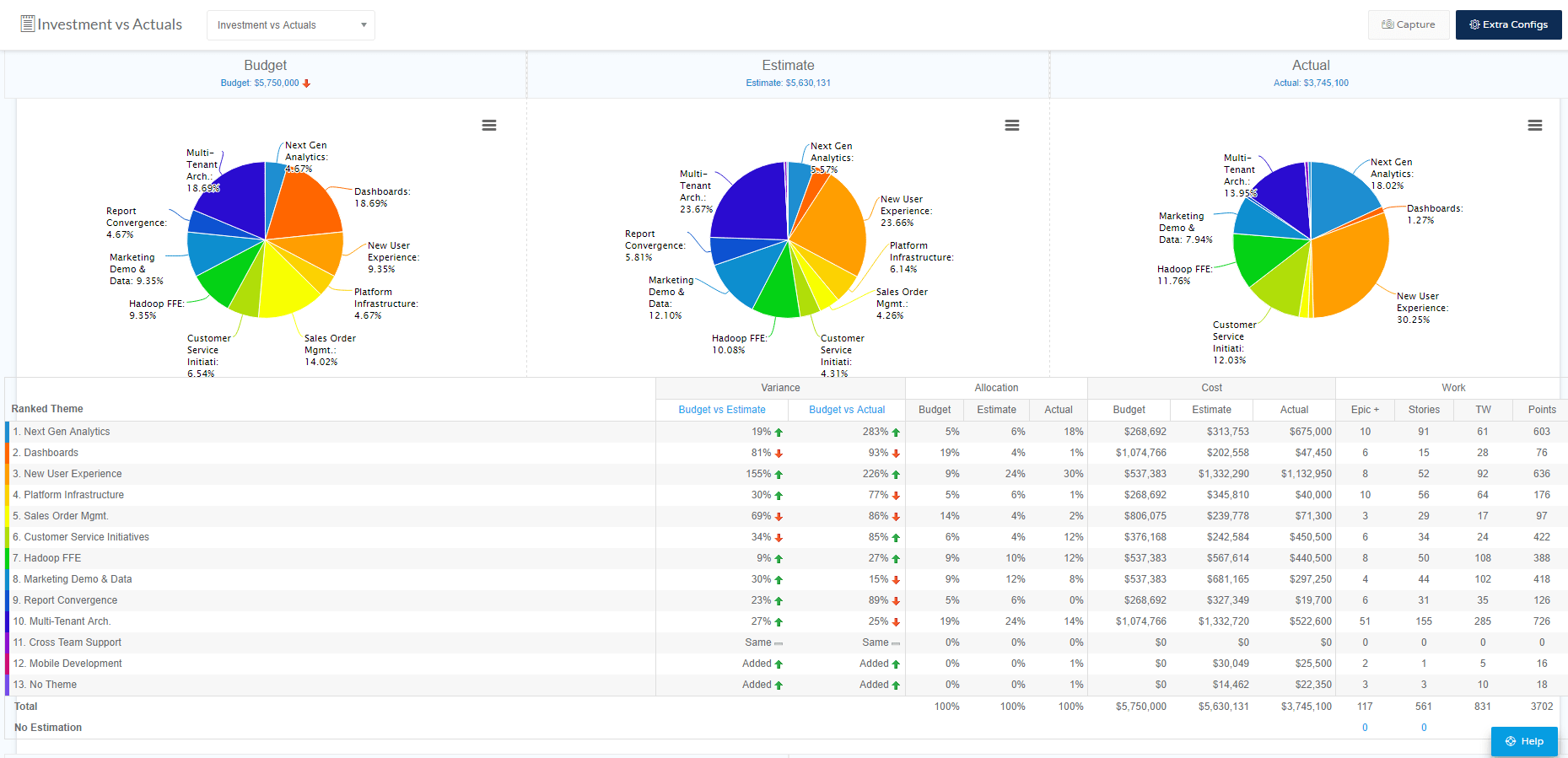 Since they're not usually involved in most of the day-to-day operations happening at the team level, most of the portfolio manager's daily routine consists of monitoring data provided by product and program managers and using it to guide current and future strategic direction for the entire portfolio.
At the same time, the portfolio manager needs to be on top of overarching organizational strategy and goals to ensure their portfolio is producing enough value to justify the investment the enterprise has made. And, looking ahead, to make necessary recommendations or requests for future investment that can be backed up by the data.
Why Jira Align Excels for LPM
Each level of the agile enterprise has their own home base inside Jira Align. These hubs are called "rooms", and they contain a curated selection of reports, filters, and resources that will fulfill the bulk of your needs within moments of logging in. Each "room" also contains access to any inputs your role requires.
Portfolio backlog
The core input opportunity in the portfolio manager's "room" is the portfolio backlog.
The portfolio backlog housed in Jira Align can be easily prioritized using drag-and-drop. Users can filter the backlog by program, strategic driver, owner, process step, WSJF, story points, or more. Then, as program and product managers further build out the backlog and work commences, the entire list dynamically updates across the entire solution, no matter what view or filter you're using.
If the strategy changes or initiatives need to be reprioritized on-the-fly, Jira Align users do not have to go in and manually reorder features accordingly. They can "Pull Rank" to automatically rearrange features based on the new priority assigned to the parent item. This way, all stakeholders always have access to the latest portfolio, program, and product backlogs along with all the associated data on work in progress or tasks that have already been completed.
Portfolio kanban
The kanban board is a simple, yet powerful tool in LPM. Using a kanban system in Jira Align prevents demand overload, because Work in Process (WIP) limits prevent too much work from being taken on.
Within the portfolio kanban, big ideas flow through a funnel from review and collaborative analysis to implementation and completion. Implementation is a lean startup cycle, in which the MVP to prove the hypothesis is built and evaluated, and only then are additional features integrated if needed. Since epics are evaluated in their MVP state, the group can decide whether to persevere or to pivot without tying up resources in something that doesn't align strategically.
Other key reports and features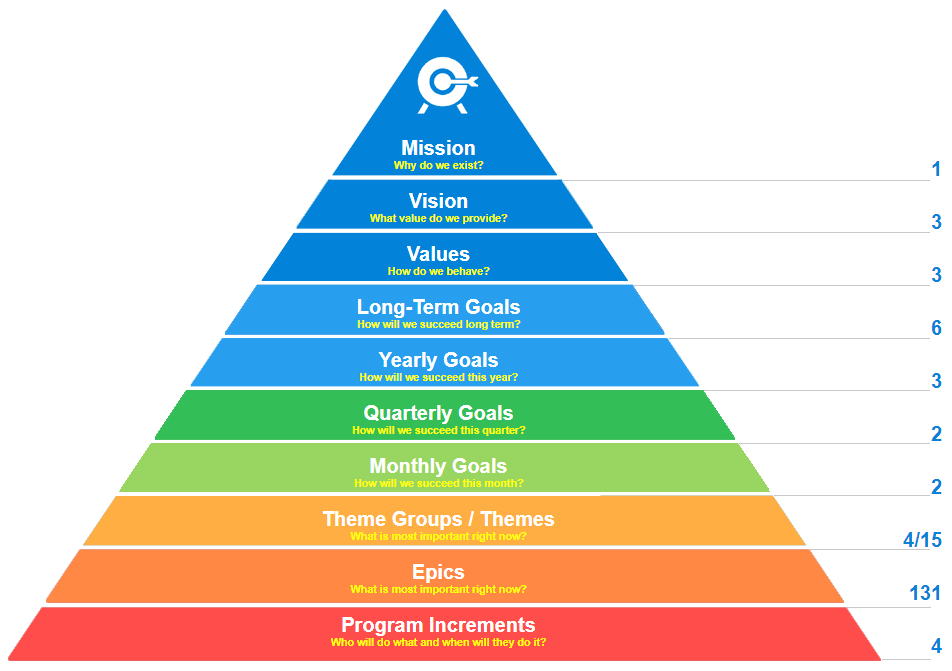 Pyramid view – allows key stakeholders to keep the strategy and themes top of mind at all stages of portfolio management. While the strategic plan is shown in a hierarchical pyramid, the view can be customized to show only needed layers, for a drilled-down analysis. The pyramidal approach enables long term tracking, so incremental progress toward the desired future state can be captured using the levels of the hierarchy.
Lean budget guardrails – assist with implementation by keeping investments on track fiscally. These guardrails keep business owners engaged and guide investments by horizon, so that both immediate and long-term priorities receive funding allocation.
Success criteria – enforce quality standards with clearly defined criteria for "ready" and "done" for epics, features, and stories across teams, programs, and portfolios.
Visualization features – make it easy to implement strategy in an iterative approach in which teams work consciously toward systemic improvements while maintaining the flexibility to pivot if value is not demonstrated in the MVP or to deepen the commitment if initial results have promised.
Value streams – visualize the work flowing through the system by value stream to identify and remove bottlenecks for maximum throughput.
Ready to go deeper? Watch the webinar on aligning to strategy with Atlassian Jira Align. Or, see what we can do to help you make the most out of Jira Align.
Is Jira Align is the right solution for your organization?
Learn More