Rally to Jira Migration Series Part 1
While Rally Software is a widely used, powerful Agile project, program, and portfolio management tool, many users find that their unique Agile journey requires more flexibility than is built into the tool. This is especially true as their Agile development process starts to scale. At that point, many organizations choose to move to Atlassian's tech stack, namely Jira and Jira Align.
Let's look at the top features you should look for in a software management tool and compare Jira and Jira Align's capabilities to Rally's.
The Tool is Not the Process
One of the biggest pain points for organizations that are looking for a software tool is that they want a tool that will fix their process problems. However, a tool is not the process. Tooling can help ensure your process is followed and managed, but the tool cannot replace your process.
Jira + Applications
One of Atlassian's most powerful tool options is Jira software + applications. Jira software has minimal guardrails, meaning users have to define their guardrails by implementing apps within Jira software. This can create some challenges due to a lack of established best practices mainly because of such drastic differences between customer verticals, industry, methodology, or internal process.
For organizations that go through a period of rapid growth, these applications typically need to be removed as the organization will need to migrate to Jira Align. This can be a frustrating process for users because they have spent so much time and effort getting everything up and running in Jira, and now they have to move into Jira Align.
Lastly, you need to have a strong solution architecture to ensure the Jira and application configuration will support your process and methodology. This is true for any tool you might be using. Without a strong solution architecture, no tool is going to serve your needs.
Jira + Jira Align
As we previously mentioned, when organizations continue to grow and scale, they need to migrate to Jira Align. As opposed to Jira, Jira Align provides guardrails, giving organizations predefined best practice configurations. This leads to higher visibility of data and higher predictability to the market, giving organizations the responsiveness they're looking for with roles and responsibilities. Jira Align also brings in clear Agile reporting, pointing a magnifying glass at delivery and bringing visibility into areas in need of process improvement.
As you start to simplify and consolidate the applications in Jira and add the predefined guardrails back with Jira Align you begin to support your Agile at scale journey with the option for customized guardrails, along with coaching assets and framework guidance to support your organization.
Ex: Guardrail – Agile Enablement framework
Allows you to create checklists and frameworks that support what you're doing as you scale your organization's growth into the enterprise view.
Rally vs Jira
Now that we've laid out a basic understanding of Atlassian software, let's compare Rally vs Jira/Jira Align through three categories: flexibility, features, and ease of use.
Flexibility
Jira software is flexible enough to handle any Agile methodology and support interaction across teams. It also has excellent integrations with other systems and tools. With Jira you can pull data in and push data out with a variety of other systems through connectors.
Features
Roadmapping is a key process with several associated features in the Atlassian Suite. Another very helpful feature is the Workflow Engine that assists users with pre-defined starting points, managing workflows, automating workflow, and customizing workflows as needed. If you are looking for a specific feature to add to your tool, the Atlassian suite offers a robust application marketplace where you can add almost any functionality you need.
Ease of Use
The Atlassian Suite of tools is fairly easy to use because of its intuitive UI and powerful search native to the tool. Most people become power users of Jira within a few days. All the capabilities are automatically available to users, giving them ease of adoption and allowing them to begin supporting their team's needs immediately.
Rally vs Jira Align – Comparable View
Rally and Jira Align do have some comparable views. Just like Rally, Jira Align brings portfolio and program Kanban views to the backlog world. This gives users the ability to create customized process flows to best support their organization's methodology. Users can test their customized build and continue to evolve it to improve governance and compliance.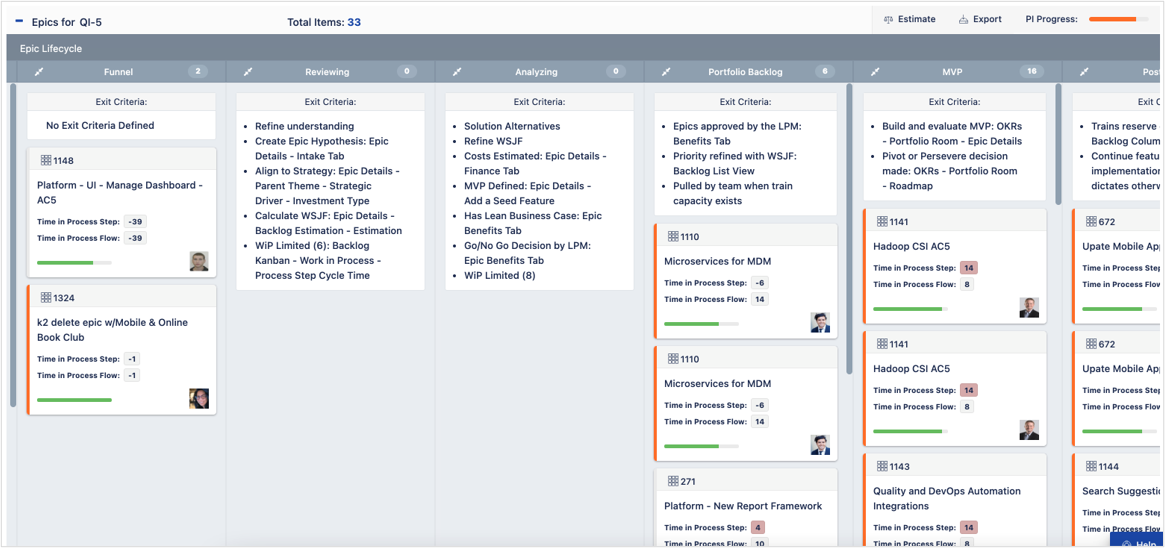 In comparison, Jira Align's roadmapping feature can extend up to three program increments into the future while including predictability and percentage of confidence rates. Additionally, Jira Align will push the known accepted velocity (the rolling average over previous program increments) into the backlog.
Another view familiar to Rally users is the hierarchical view. In Jira Align this view shows the highest level of the work object all the way down to the story level. This allows users to understand what may be influencing delivery time, and therefore, react accordingly to ensure the product is being delivered on time.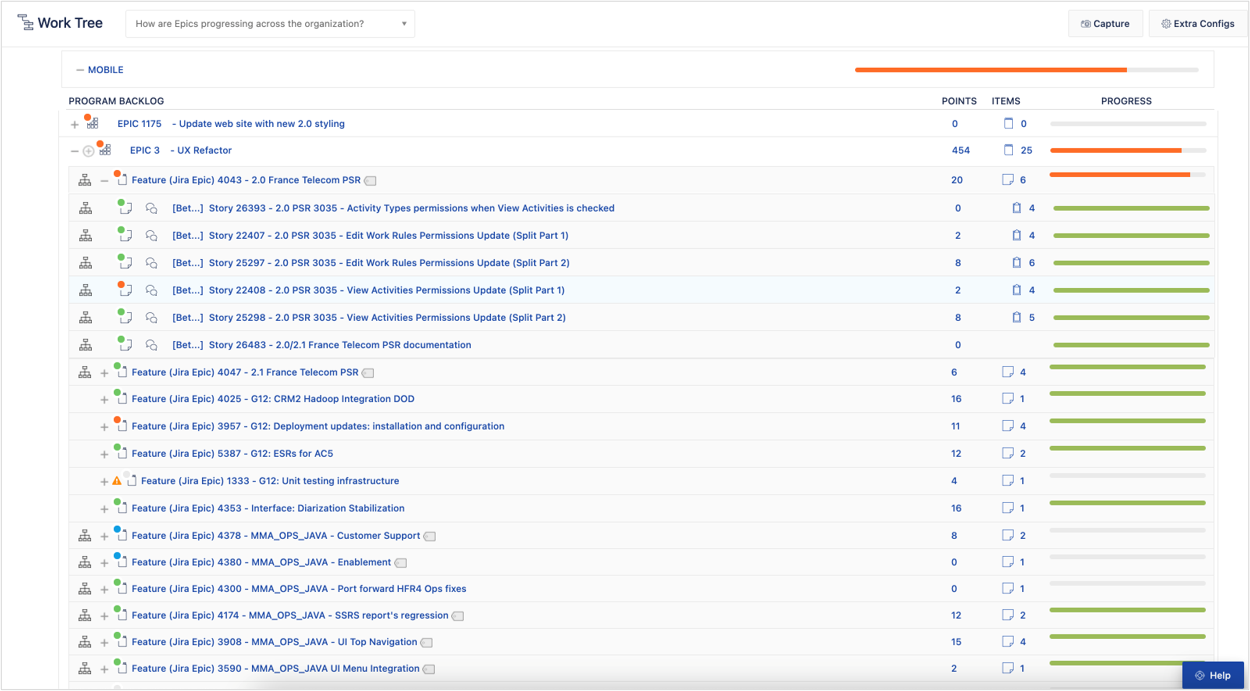 Rally vs Jira Align – Incomparable Views
There are some additional views that Jira Align has, but Rally does not. These views give extra value to enterprises when they're upscaling their data radiation and are looking to learn more from data in a real-time manner.
Unlike Rally, Jira Align's roadmap is a very robust module that works from the strategic level, meaning capturing strategic themes, all the way down to the feature level. This helps users identify exactly what the programs and trains should be delivering in the next program increment.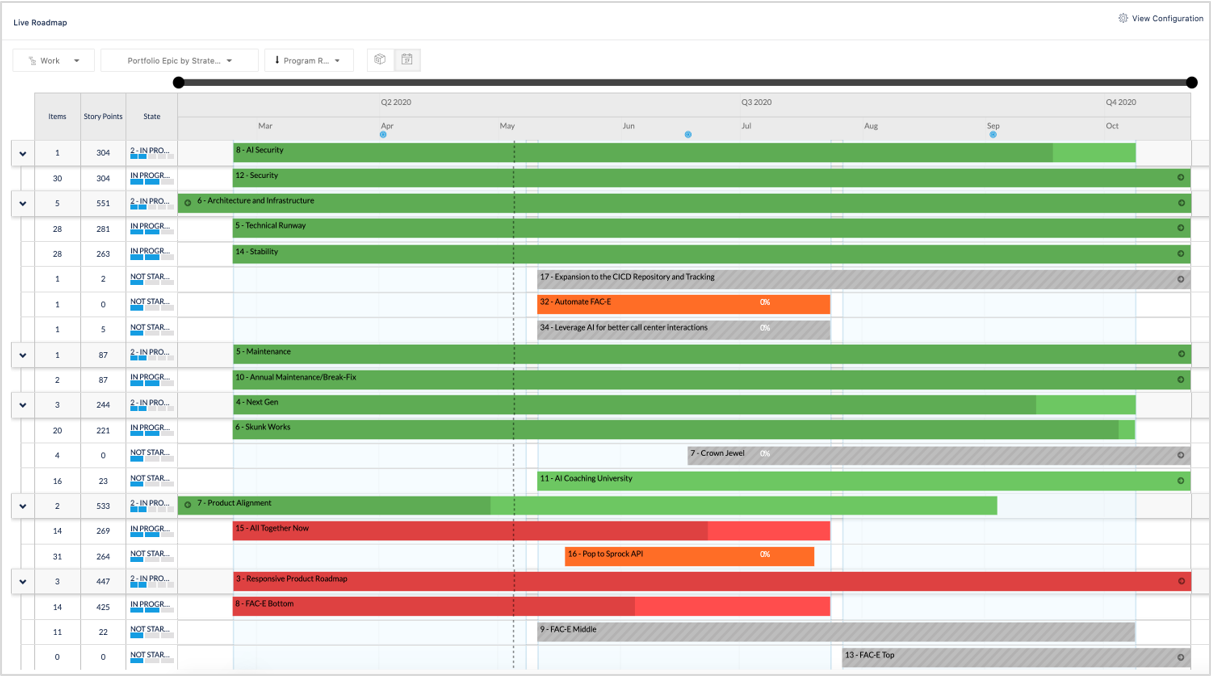 Jira Align also provides a number of room views, in which Rally does not. The Strategy Room is a great way to view related items to an enterprise committed strategy for one to multiple years. Jira Align also has the Portfolio Room which breaks down how individual portfolios are tracking against their execution of work, resources, and capacity, to continue to deliver and improve value.
The Program Room is used to view all the individual programs and their ability to deliver. In this room we are able to see risks, dependencies, and objectives as they actively start to appear. As opposed to Rally, the Dependency Object inside of Jira Align is a robust, manageable object that paints pictures on the program board, allowing you to plan your program increments, rooms, and other reports to radiate the risks that dependencies are causing to your delivery.
Now that we have compared Jira and Jira Align vs. Rally, it should be clear that although they are similar in many ways the Atlassian Suite of tools (and Jira Align specifically) have more flexibility, visibility, and guardrails, enabling your leadership and teams to tune into the needs of your organization. At the end of the day, you still need to focus on your process and choose the tool that provides enough flexibility to fit that process.
If you are ready to get real-time visibility into aggregated data and align your team to enterprise strategic goals, get a free Rally to Jira Migration Assessment today.
Cprime is a certified Atlassian Partner providing tailored consulting solutions for Jira Align and was hand selected by Atlassian to be the first ever provider of Jira Align consulting services and training because of our deep and diverse expertise in the Atlassian stack, SAFe methodology, and our existing product knowledge as former Agilecraft partners. We continue to pave the way with innovative content and solutions for the most effective Jira Align adoption and integration possible.
Continue your learning journey with part 2 of this blog series. We highlight the top Rally to Jira considerations to think about as you migrate.