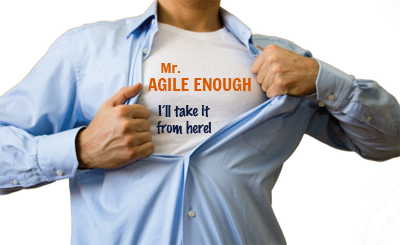 A significant percentage of organizations that try to adopt agile each year either completely fail to complete the transformation or have to admit within 12-18 months that they're not seeing the benefits they expected from the adoption.
This is not because agile itself is flawed or even that the companies got off on the wrong foot. Often, it has far more to do with their plans for long-term success and their level of commitment to working through the inevitable challenges that any major change will bring about.
An Agile trainer can provide the foundation needed to succeed, and a professional Agile Coach can do wonders guiding an organization through an agile transformation. Still, neither of these valuable resources provides a long-term formula for self-sufficiency.
Regardless of how much good an outside trainer or coach can accomplish while they're there, these professionals will eventually leave, and the newly minted scrum teams, scrummasters, and product owners left in their wake will be on their own.

The Role of the Internal Agile Coach
The key to Agile success is to designate in-house, long-term Agile Coaches to continue the work of the outside professionals both during and after the initial transformation. While this role is not technically a requirement of agile, it demonstrates two things:
1. The company's long-term commitment to agile success, and

2. The company's understanding of the fact that "continuous improvement" is a journey rather than a destination.
These internal coaches will forever serve as advocates of the agile methodologies, guides to new and veteran employees as they master their agile roles, and mentors to other organizational leaders seeking to constantly improve.
Organizations that have of one or more internal associates serving as Agile Coaches after the initial training and professional coaching period have a better chance for success. They are more apt to effectively implement agile principles and stick with them over the long haul to fully realize the potential of agile in improving their product quality and value.

And that's why they succeed.
If you're interested in learning about the internal Agile Coach role and how it could help your organization, take some time to view our Agile Coaching and Mentoring services . Or, arrange for one or more of your associates to take our popular Professional Agile Coach training program today!